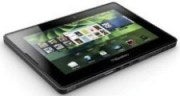 Research in Motion is trying to woo developers by giving a free BlackBerry Playbook tablet to coders who port their Android application for its BlackBerry Tablet OS.
The promotion, announced on Twitter by Alec Saunders, RIM's vice president for developer relations, comes as RIM struggles to generate interest in the Playbook in the face of sluggish sales.
In the U.S., the company put the tablet on sale again this week, slashing the price of its 16 GB Playbook to US$199, down from an original retail price of $499. The 32 GB model is now $249, down from $599, and the 64GB model now retails for $299, according to the company's website.
Developers who are registered with BlackBerry App World are eligible for a 16 GB Playbook if they port their application and submit it to BlackBerry's App World between Feb. 2 and Feb. 13. RIM is requiring that applications meet its BlackBerry App World Vendor Guidelines.
Later this month, RIM will release the 2.0 upgrade for the Table OS, which the company previewed last month at the Consumer Electronics Show in Las Vegas. The new version will have the BlackBerry Runtime for Android apps, which will allow Android 2.3.3 applications to run on the device.
Other improvements include native applications for e-mail and contacts, a noticeable omission when RIM released the Playbook last year.
Android applications must be repackaged in the ".bar" file format. RIM has published a set of tools for developers to ensure the applications are compatible.
RIM warned that some of the APIs in the Android Software Development kit may not be supported or only partially supported by the BlackBerry Runtime for Android.
Send news tips and comments to jeremy_kirk@idg.com