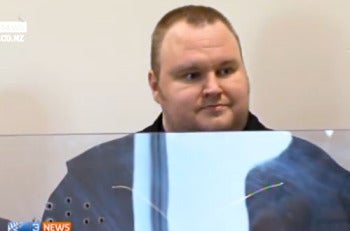 Three weeks — that's how long larger-than-life MegaUpload founder Kim DotCom has to stay in jail, after his bail was denied a second time. Why twice? Because the prosecutors (and the court) apparently fear he might attempt to flee New Zealand, where he's currently being held before his extradition hearing.
Dotcom was arrested the day before his 38th birthday, January 20, for alleged criminal copyright infringement via now defunct cyber-locker website MegaUpload.com (prosecutors allege he and others made $175 million by trafficking in illegal content). Dotcom is a German national whose other names include Kim Schmitz (born as) and Kim Tim Jim Vestor. He founded MegaUpload in March 2005, but the site was shut down by the U.S. Department of Justice on January 19 and all of its assets frozen. While analysts believe most of MegaUpload's content was illicit, debate continues over the government's handling of the case, which included severing access for legitimate users.
Why did Auckland's high court agree with the lower court that Dotcom was a flight risk? It might have something to do with the fact that Dotcom has multiple passports, and bank accounts in three names. That, and this isn't his first brush with the law: As a teenager, he was charged with credit card thievery, and in 2002, he was arrested in Thailand and deported to Germany for insider trading and embezzlement.
"The judge correctly concluded that the risk of flight cannot be mitigated by the imposition of conditions, including electronic monitoring," said prosecutor Anne Toohey. Toohey argued at the previous bail hearing that Dotcom was a flight risk "at the extreme end of the scale," and said that "The FBI believes the sums located are unlikely to represent all the overseas bank accounts owned by Mr. Dotcom."
According to HuffPost, Dotcom triedt to assure the court he wouldn't flee New Zealand, and that he just wants to get the money authorities seized last month back. He's also complaining about being harassed by female inmates, and a government attorney says he was approached by a forger during the trial itself.
It'll be a few weeks before Dotcom's next legal event: He'll remain in custody until February 22, before a hearing over an extradition application by the U.S.
Matt Peckham writes for TIME and PCWorld. You can find him on Twitter, Facebook, or Google+, and follow Today@PCWorld on Twitter,too.