Most Facebook users get more from their "friends" on the social network than they give to their friends, according to a first-of-its-kind study released Friday by the Pew Internet and American Life Project.
During a typical month on Facebook, 40 percent of its members will make a friend request, yet 63 percent of them will receive such a request, according to the study which, for the first time, compares Facebook server log information with survey data to mine information about Facebook friendship networks.
The researchers also find that during a typical month, users click "like" on other members' content an average of 14 times, while their content receives an average of 20 "like" clicks.
Similar findings apply to sending personal messages (nine sent versus 12 received) and photo tagging (12 percent tagged people in photos versus 35 percent were tagged by others).
Why do these discrepancies exist? Two words: power users, explains the lead author of the study, Keith Hampton. Although power users represent only about 20 to 30 percent of all Facebook members, their activity levels are much higher than the typical user, so they can skew the averages.
What's more, power users tend to coagulate around particular Facebook activities. For example, a member may be a power user at friending, but won't be a power user for liking or tagging, so each activity will have its own set of power users.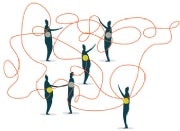 Another intriguing wrinkle uncovered by the researchers is that your friends typically have more friends than you. The average Facebook member has 245 friends, they found, but the average friend of a user has 359 friends. That "friendship paradox" is also true of offline relationships, Hampton explains.
That's not too surprising, since other researchers have also found real world influences on virtual friendships, too.
Other findings by the researchers include:
Most Facebook friends aren't directly connected to each other. A friend of a friend might also be your friend, but your connections typically won't extend beyond that.
The more you friend others, the more social support you will receive from your network. By the same token, the more you post to the network, the more emotional support you'll receive from it.
The average Facebook user could reach 31,170 people with friends-of-friends enabled.
Follow freelance technology writer John P. Mello Jr. and Today@PCWorld on Twitter.