At a Glance
Expert's Rating
Pros
Lets you monitor specific appliances
Cons
Can be confusing
Lacks customization
Our Verdict
Save money by getting a complete picture of your power consumption.
I'm all for saving energy, especially if it means saving money on my utility bills. But I'm not sure that Energy Saving (€20, 14-day free trial), an application designed to help you monitor and reduce your use of energy and other resources, can really help with that task.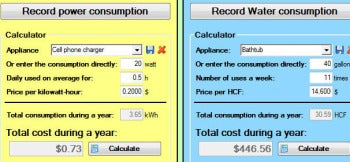 First of all, for an application designed to help you reduce your energy consumption, Energy Saving sure comes with a lot of bloat. Before you can even begin installing the software, you have to accept or decline options to include add-ons like the Yahoo Toolbar, Shopping 4 Causes, PC Optimizer Pro, WeatherBug, and KNCTR.
Once you get past all of those options, you're finally able to get Energy Saving up and running. The software features a decent interface: it isn't exactly elegant, but it's plenty user friendly. It includes options for tracking the use of power, water, gas, and heating oil. As you click on each of these options, Energy Saving guides you through the process of creating the records you need to begin tracking consumption. My biggest complaint, though, is that the application lacks any real customization. For example, my water bill presents the per-unit cost in cubic feet, but Energy Saving only allows me to enter the per-gallon rate. (Which is strange, too, since this is a European application with a decided European feel, as it reminds me to enter the VAT when entering prices.)
Energy Saving's handling of heating oil is a bit confusing, too, as it asks me for the "Filling Date" and "New Level" of my oil tank. After a filling, the oil tank is full, so I entered the full capacity as the new level. But it later asks me for the full capacity of the tank and the amount paid for a filling. It calculates the per-gallon charge based on that full capacity number, which results in an incorrect per-gallon price. It should ask me how many gallons of oil were added and the overall price to come up with the correct figure.
More useful is how Energy Saving lets you track how much it is costing you to use specific appliances and items in your home. You can, for example, figure out how much it costs you each time you run a bath or how much your cell phone charger adds to your electric bill when you use it for a half hour.
Energy Saving also delivers (optional) tips on how to reduce your energy consumption. But the ones I saw–"Run your dishwasher at full capacity" and "Must the hot tap water be open when you are brushing your teeth?"–were pretty obvious.
Overall, I found Energy Saving a bit confusing to use, and I do wish the application let you customize it to your specific needs. It does offer some useful features in the way of monitoring the ways you use your utilities, but so, too, do some of the nation's big utility companies — and they offer them for free.
Note: The Download button takes you to the vendor's site, where you can download the trial of this software.
–Liane Cassavoy