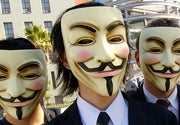 "Hacktivist" group Anonymous is having a laugh at law enforcement's expense after secretly recording a conference call between the FBI, U.K. authorities, and other foreign police agencies, and then posting the recorded conversation online.
The FBI has admitted that Anonymous eavesdropped on the conference call, but told the New York Times that the phone call wasn't hacked. Instead, Anonymous somehow obtained an email containing the conference call login information, which was sent to 44 people at the FBI and overseas agencies on January 13. According to the Times, a foreign police official forwarded the email to a private account, where it was intercepted by Anonymous.
The call itself sounds like business as usual. Agents from the FBI and the United Kingdom's Metropolitan police talk about ongoing investigations into Anonymous, Lulzsec, and other hacking groups. They discuss legal strategy for two alleged hackers, Ryan Cleary and Jake Davis, who were arrested last year, and mention other suspects who haven't been arrested yet.
One notable tidbit from the conference call was about the hacking of Valve's Steam network late last year. After a U.K. official mentions having a suspect ("a 15 year-old kid who's basically just doing this all for attention and a bit of an idiot"), an FBI official says the agency has an investigation looking into that case. The hacker, who goes by the alias TEHWONGZ, apparently mentioned Steam in a document claiming credit for various security breaches.
The FBI is now investigating the conference call intrusion. "The information was intended for law enforcement officers and was illegally obtained," the agency said in a statement.
Meanwhile, Cleary's attorney, Karen Todner, told the Associated Press that the breach could present issues in her case. "If they haven't secured their email it could potentially prejudice the investigation," she said.
At the very least, such an intrusion is an embarrassment for the FBI, which should be securing its conference call lines. For Anonymous, whose other recent security breaches include Stratfor Global Intelligence, the Israeli government, and San Francisco's Bay Area Rapid Transit system, it's just another cause for bragging rights.
Follow Jared on Twitter, Facebook or Google+ for even more tech news and commentary.