At a Glance
Expert's Rating
Pros
Impressive graphics
Offers professional-like tools for free
Our Verdict
Ikea Home Planner lets you design the kitchen of your dreams–as long as it's filled with Ikea products, of course.
I'm not an architect or an interior designer, but I sure like to pretend I am. I have plenty of ideas about how to improve my house, especially its 1970s-era kitchen. That's why I'm having so much fun with Ikea's Home Planner, a free, cloud-based application that lets me design the kitchen of my dreams–as long as it's filled with Ikea products, of course.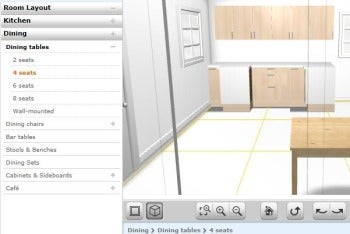 Ikea's Home Planner doesn't actually let you plan out your entire home; it's restricted to kitchen and dining areas. (Ikea does refer to it as the Kitchen planner in some places on its site, and also offers a Pax planner, a separate application that lets you design the interior of its wardrobe products.) The Web-based application can be a bit slow to load, but it's eminently usable.
When you begin a new project, you can choose to start from scratch, with a bare room,or, if that option seems too intimidating, you can opt to start with one of Ikea's pre-designed spaces. Luckily, designing a project from scratch isn't too difficult. You start by selecting the room shape, and Ikea includes enough options– including those with indents and diagonal cutouts–to satisfy the needs of most people. You can adjust the size of your walls, but Ikea's measurements rely on the metric system, so if you're in the US, you'll have to get your meter stick out or be ready to do the conversions on your own.
Once the walls are in place, you add your windows and doors. You can click from a list of options (such as interior and exterior doors or interior openings); so many are available that I started to feel slightly overwhelmed. I felt even more so when it was time to add the real meat of the kitchen: cabinets, shelves, and appliances. The Ikea Home Planner is a lot like a digital version of the Ikea catalog, allowing you to choose between built-in cabinetry and free-standing items with names like Bjursta and Udden. If you find yourself lost in the endless options that the catalog provides–to say nothing of a visit to an actual Ikea store–you may find your head spinning as you try to decide whether you should use Tyda handles and a birch veneer, and if your handles look better on the right or the left.
But seeing all of the pieces placed in a virtual model of your kitchen makes the process considerably easier, especially when you switch to the impressive 3D view. Once your project is complete, you can print a copy or save the digital version to Ikea's server so you can access it when you're in the store. You cannot save a copy to a USB drive, as Ikea will not allow you to use these kinds of removable storage devices in its stores.
The Ikea Home Planner is a very cool tool that makes it easy for casual users to craft professional-looking designs. It's easier to use than home design products like HGTV Home and Landscape Platinum Suite and Punch Software's Home & Landscape Design NexGen (each $50). But while these products have a steeper learning curve, they also offer exponentially more options, as both allow you to design complete homes inside and out. Ikea Home Planner will appeal to a much more limited audience, as it's limited to kitchens built with Ikea products.
Note: Clicking the Download button will take you to the vendor's site, where you can install this software directly into a supported browser.
—Liane Cassavoy