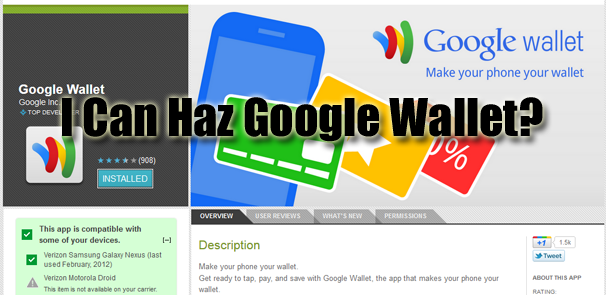 The crafty folks over at Droid-Life have discovered that, through the sorcery that is the Android browser, you can install apps that were previously blocked by carriers. This means that you can get Google Wallet on a none-Sprint phone, as well as any apps that allow you to (illegally) tether.
This workaround surfaced on Thursday when a user managed to install Google Wallet on their Verizon Galaxy Nexus. After the story broke, several people on the Droid-Life forums found out that the same method could be used to get other carrier blocked apps on any device. The method essentially involves going to the Android Market via the mobile browser and tricking the phone into installing the app using the Android Market app.
For those interested, you can find the specific instructions on how to achieve this workaround on Droid-Life's site. A brief disclaimer though: Do this at your own risk. Carriers have cracked down in the past on illegal tethering, and your carrier may terminate your contract if you get caught. Even if you install an app like Google Wallet, you may be in violation of Google's terms of service, and Google or the carriers could plug this hole at any time, so proceed at your own risk.
Like this? You might also enjoy…
Get more GeekTech: Twitter – Facebook – RSS | Tip us off