At a Glance
Expert's Rating
Pros
Camera performs well outdoors
LTE without a contract
Cons
Lots of bloatware
Specs can feel a bit outdated
Our Verdict
The Samsung Galaxy Attain 4G suffers from too much bloatware and dated specs, but it's still one of the best phones in MetroPCS's lineup.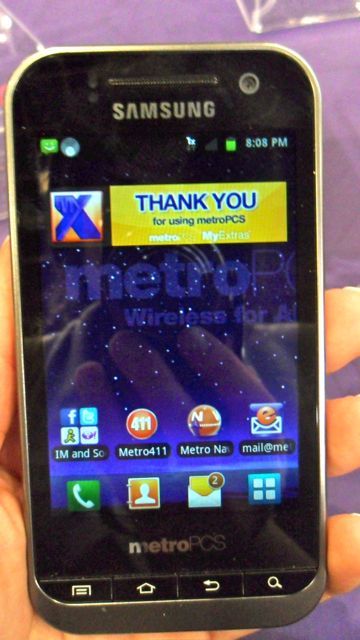 The Samsung Galaxy Attain 4G, which debuted at CES 2012, is a contract-free smartphone that runs on MetroPCS's 4G LTE network. At $250 without a contract (as of January 30, 2012), the Attain is one of the most budget-friendly LTE phones currently available. However, though the phone's low price will certainly attract attention, the overabundance of adware on the phone might drive some shoppers away.
Design
The Attain has a 3.5-inch, 320-by-480-pixel QVGA display, a change of pace from most of the 4-inch and larger phones out there. In my tests the screen did a decent job of displaying colors, though some of the app icons and other graphics appeared blurry. Text is readable, but you probably won't want to pore over your Google Books novels on the Attain's diminutive display.
At 4.57 by 2.38 by 0.46 inches, the Attain is one of the smaller Android phones available. While it's shorter and narrower than most of Samsung's other Galaxy phones, the Attain is slightly thicker than the Galaxy Nexus (0.37 inches). The Attain's compact size makes it easier to hold, and the phone should fit easily into most people's pockets.
The Attain ships with two cameras: a 1.3-megapixel front-facing camera and a 3-megapixel rear camera (more on those later). One interesting note: The Attain is one of the few Android smartphones to have a physical camera button–something that we normally see only on Windows Phone 7 handsets or camera-centric Android phones such as the T-Mobile MyTouch 4G Slide.
Speaking of buttons, Samsung has opted to replace the standard soft-touch navigation buttons with physical ones. The buttons are curved, so they're easier to press, but I found them to be a little flimsy. The other buttons on the phone–the power button, the volume rocker, and the camera button–all felt sturdier, though the camera button was a bit spongy.
Performance
Running on a 1GHz single-core Samsung Hummingbird processor and 512MB of RAM, the Attain has similar specs to the Samsung Mesmerize on U.S. Cellular and the Vibrant on T-Mobile. Although that isn't necessarily a bad thing, it does make the Attain feel somewhat dated in comparison with all the dual-core phones that are being released these days. In my hands-on with the phone, I didn't notice much lag when swiping through home pages or jumping around apps. The one time I did notice a performance issue was when I tried opening the popular game Age of Zombies: The app would run, but only after the phone showed a black screen for about 2 minutes. More graphics-intensive games, such as EA's Dead Space, would occasionally stutter and slow down, but were nonetheless playable on the Attain's small screen. The compact display made texting while in portrait mode difficult–something to keep in mind if you have big fingers and are a heavy texter.
Surprisingly, playing Dead Space on the phone for 20 minutes did little to reduce the battery life: After 20 minutes of gameplay, the battery went from fully charged down to 80 percent charge remaining. In my tests, the Attain lasted an entire workday (about 9 hours) on a single charge; your mileage will vary depending on how you use your phone, and on the number of apps you have installed. We have yet to put the phone through our official PCWorld Labs battery test, so check back later for the results.
Call quality on the Attain varied depending on location, but was usable overall. Calls I made from our office in downtown San Francisco sounded a bit muffled, but were clear enough that I could easily make out what the other person was saying. I did find the default in-call volume to be on the quieter side, though the phone allows you to turn it up to a more comfortable level. MetroPCS coverage varies from region to region, so be sure to consult the carrier's coverage maps to make sure you are in a covered area.
The Attain is a 4G phone that is compatible with MetroPCS's LTE network. Over LTE I managed to download 178MB worth of files in less than 8 minutes. Using the FCC approved Ookla Speed Test app, I clocked download speeds at around 2.22 mbps with upload speeds topping out at 2.68 mbps. To compare, when we tested 4G networks last spring, both AT&T (on its HSPA+ network) and Sprint scored in the 1- to 2-megabit range in downloads and uploads. Unfortunately, MetroPCS doesn't come anywhere near Verizon and AT&T's LTE networks, both of which score in the double digits.
Software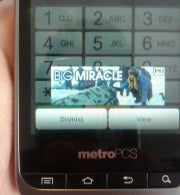 The Samsung Attain ships with Android 2.3 and comes with a considerable amount of extra software. In addition to Samsung's TouchWiz overlay, the phone has a few preinstalled apps such as QuickOffice and Loopt, though you can uninstall most of these apps in the settings. One of the apps that you can't uninstall, however, is MyExtras. When you first set up the phone, the app asks you to opt in to the MyExtras service and sells itself as a way to receive MetroPCS news and promotions. What the app doesn't tell you is that those promotions take the form of pop-up ads that appear on your home screen. You can disable the alerts from within the MyExtras app, but you cannot shut the app down completely. It continually runs in the background whenever the phone is turned on, too. If at all possible, avoid this app while you're setting up the Attain.
Entertainment
Thanks to its compact size and decent battery life, the Attain makes for a satisfactory portable media player. While I wouldn't recommend watching full-length high-def movies on the small screen, the Attain is well suited for music playback, and it even includes apps such as Rhapsody for easier access to large libraries of music. The Attain comes with only a 2GB MicroSD card, so if you are serious about using the phone as your primary music player, you'll most likely want to upgrade to a 16GB or 32GB card.
The HD video I streamed to the device loaded quickly over LTE and had no playback issues, but it was extremely fuzzy due to the Attain's low-resolution display. Unlike other carriers, MetroPCS offers unlimited data, so you don't have to worry about going over your limit while streaming media to the phone.
Camera
The Attain uses Samsung's custom camera interface, and has some interesting shooting features such as a panorama mode. Photos that I took with the Attain's 3-megapixel camera did not look very sharp, but they were clear enough for everyday purposes. It's a good camera for the occasional Facebook or Twitter photo, but it isn't something you would want to use for important events.
Although the Attain can shoot video in 480p, the quality of videos in my tests was below average. Videos seemed grainy, with heavy blurring whenever any movement was involved. The Attain did do well at picking up audio, but overall I suggest that you avoid using the phone to record anything other than YouTube videos.
Bottom Line
The Samsung Galaxy Attain 4G may not be the best LTE phone we've ever reviewed, but at $250 with no contract, this handset is definitely a good deal. It's a shame that the phone ships with so much bloatware, but overall the Attain is worth a look–especially if you're shopping for a 4G Android phone without the burden of a two-year commitment. So long as you don't mind a few ads here and there, the Attain is a solid choice.