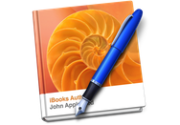 Some controversial provisions in the agreement governing the use of Apple's iBook authoring software has been modified after coming under intense criticism from authors and publishers.
As originally written, the agreement required any book created with Apple's iBook Author software to be sold through Apple. That set off a powder keg of controversy, as authors and publishers protested that Apple was trying to control the content they created.
"I find that clause unacceptable and ridiculous," declared author Liz Castro in her blog. "If I create a book, I want to be able to sell it anywhere I want, not only through Apple. I no more want to restrict my sales to their store than I want to restrict them on Amazon or anywhere else."
The new version of the End User License Agreement (EULA) for the software modifies the original by specifying that only files in the .ibooks format created by the application need to be sold through Apple, according to Ars Technica.
Not that there's anything you can do but sell a book in that format through the Apple's iBookstore. Such books can only be read in iBook 2.0, introduced at a press event in New York last month, which only gets its content from the iBookstore.
The modified EULA also makes clear that any content in an iBook can be distributed by its creators anywhere they want, as long as it does not include files in the .ibooks format.
Apple may have been surprised by the vehemence of the criticism of its iBooks Author program after a few folks took the time to read the software's EULA, but its quick action in rectifying the situation seems to indicate that it was never interested in controlling the distribution of intellectual property created with its software–only in controlling content distributed in one of its proprietary formats.
Apple wants to control what the end user's experience will be for any book created with its authoring software, maintains to Dave Tucker, the principal architect and resident iOS expert for Universal Mind. "By doing that, they're creating customer confidence in things created with their tool," he told PCWorld.
Follow freelance technology writer John P. Mello Jr. and Today@PCWorld on Twitter.