At a Glance
Expert's Rating
Pros
Comprehensive feature set
Excellent landscaping tools
Our Verdict
Home & Landscape Design NexGen 3 has a steep learning curve, but offers powerful home design tools.
I own a house that isn't quite the home of my dreams. It has plenty of potential, but just needs some help living up to what it could be. The same could be said of Punch Software's Home & Landscape Design NexGen 3, a $50 application that allows both novices and experienced users to design and redesign living spaces, both indoors and out.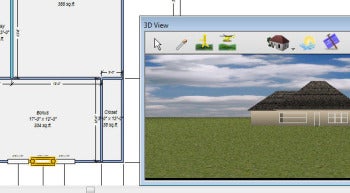 Getting started with Home & Landscape Design was easier than I thought, despite its dated-looking interface. The application makes it easy to draft a floor plan of a house, using its QuickStart feature. I had a blast creating an imaginary dream house, and loved using the software's 3D viewer to see a realistic model of my creation. But Home & Landscape design suffered somewhat when I attempted to create a model of my existing house. Like the $50 HGTV Home and Landscape Platinum Suite, Punch Software's product sometimes made placing existing components, such as windows and oddly-shaped hallways, a challenge.
Home & Landscape Design includes an extensive set of tools for customizing the look of the home you've designed, which allows you to see your house in a new — or different — light. You can add furniture, change wall colors and floor coverings, and alter the lighting. It took me some time to learn how to use all of these features, though, and even after spending plenty of time using the software's extensive help videos and tips, I never felt as though I had mastered it.
Like its HGTV rival, Home & Landscape Design does, as promised, let you design or redesign an exterior space too. I found its exterior landscaping features a bit easier to use than those on the HGTV product, and while the customization options are extensive, they're also somewhat difficult to master. I thought I had created a realistic reproduction of the retaining wall in my front yard using the software's 2D view, but when I switched to 3D, I realized that I had created a wall that dwarfed my entire home. I also attempted to create a double-wide driveway, like the one at my house, but instead found myself with a figure 8-shaped path that didn't come close to resembling anything I've seen in real-life.
While Home & Landscape Design was, oftentimes, a challenge to use, it was no more confusing than its similarly-priced rival from HGTV. While that product may have more name recognition, it's not any easier to use. Both apps offer a comprehensive, if confusing, set of features for drafting home designs and remodels. If you can do without HGTV's branding and are particularly interested in landscape work, Punch Software's product will suit you perfectly.
—Liane Cassavoy