Apple perhaps knows better than any company that app ripoffs are everywhere.
The consumer electronics powerhouse has been pulling several fake apps from its store as plagiarized apps have been a hot topic in recent days.
Here are some quick tips to help you protect yourself and separate the real from the fake.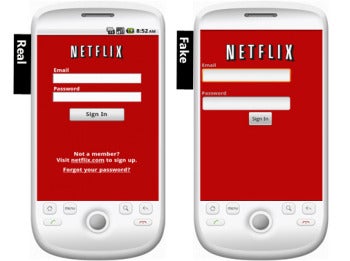 You should always be discerning when it comes to what applications you install on your computing devices, even if they come from the Apple App Store. Even malicious code has made it in.
Before downloading anything from Apple or the Android Market, take a good look at the reviews other users are giving. Since disgruntled mobile users are usually quick to give feedback on apps, don't ever download anything with a one- or two-star rating.
While Apple is known for screening apps before they are allowed to sprout up in its walled garden, clearly fake apps do get in. Once they do, getting them out depends on developers who raise a fuss. In the meantime, some consumers get confused and shell out money thinking they're getting the real app, when they're actually buying a counterfeit.
This happens more often than you might think.
An app claiming to be the 4.0 version of Camera+ gained access and last month was busted as a fake. The real Camera+, created by developer Tap Tap Tap, is sold for the same price, but it's only at version 2.4.
In another recent development: The founder of Imangi Studios, one developer consternated by watching consumers download a ripped-off version of his popular Temple Run game for iOS, tweeted on Friday that "Apple has pulled 'Plants vs. Zombie', 'Angry Ninja Birds', and 'Zombie Air Highway' from the same seller but not 'Temple Jump' yet."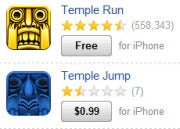 Plants vs. Zombie, for example, copycats a popular and legitimate app called Plants vs. Zombies. And Temple Jump is a complete rip-off of Temple Run, a free five-star app available in the App Store.
These fake apps and many more are the work of a developer called Anton Sinelnikov, reports The Guardian.
Follow Christina on Twitter and Google+ for even more tech news and commentary and follow Today@PCWorld on Twitter, too.