Will your next laptop be a smartphone? The idea isn't as crazy as it sounds. In the coming decade, mobile phones will gain capabilities that make them suitable replacements for the conventional desktop/laptop computer.
Phones are already more popular than PCs. New research by Canalys shows that 2011 global smartphone shipments topped those of client PCs — including desktops, laptops, netbooks, and tablets — for the first time.
The development is a "significant milestone," says Canalys analyst Chris Jones.
"The greater availability of smart phones at lower price points has helped tremendously, but there has been a driving trend of increasing consumer appetite for Internet browsing, content consumption and engaging with apps and services on mobile devices," Jones says in a statement.
While Canalys expects smartphone growth to slow in 2012, as vendors focus more on premium handsets that command higher prices, there's no denying the fact that the mobile phone has become the world's preferred computing device.
Would today's smartphone make a suitable replacement for your laptop or desktop? Probably not. If you work in an office, for instance, and spend most your day buried in spreadsheets, documents, and presentations — in other words, work that cries out for a large display and full-size keyboard — the phone-as-PC concept doesn't cut it.
A little less than two years ago, Motorola executive Sanjay Jha, who's now CEO of Motorola Mobility, predicted that smartphones would replace laptops in many enterprises within a few years. It's too early to say whether Jha's timing is spot-on, but technologies are emerging that bridge the gap between phone and PC.
Watch and Listen
Motion-sensing technologies such as Microsoft's Kinect may eventually migrate to smartphones, potentially freeing phone users from the fatigue of manipulating eye-straining screen keyboards, icons, and menus.
In fact, Kinect's move to mobile devices is already under way. Asus is reportedly developing Windows 8-based laptops with Kinect sensors located above the screen where the webcam usually goes.
True, it's unlikely that mobile users will want to gesticulate wildly in front of their phones, but Kinect, working in tandem with steadily-improved smartphone cameras, could hone its ability to interpret subtle gestures. There's certain room for improvement there.
Voice recognition is another emerging tech that could render the laptop (mostly) obsolete. We're already seeing fledgling efforts in this area — Apple's Siri voice controls in the iPhone 4S being the most obvious example. But speech input is just getting started, and the ever-increasing processing power of mobile CPUs will assist its development. Quad-core phones, such as the rumored LG X3 and HTC Endeavor, should arrive this year. And advanced mobile chips, including Qualcomm's Snapdragon S4 lineup with clock speeds from 1.5GHZ and 2.5GHz, are coming soon.
Solving the Little Screen Problem
The smartphone's biggest weakness as a laptop-replacement PC is its tiny display. Even "gigantic" phones such as the Samsung Galaxy Note, with its 5.3-inch, 1280-by-800-pixel display, are tiny by laptop standards.
One possible solution: Built-in pico projectors that solve two ergonomic problems: small keyboards and screens. As demonstrated by the Mozilla Seabird concept phone, a projector-equipped handset could project a virtual keyboard on a tabletop, as well as a high-resolution image on a nearby wall. Motion controls could detect the user's keyboard-and-mouse actions.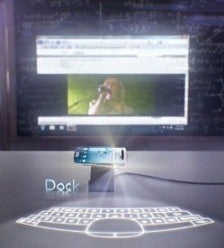 Smartphones with projectors are reportedly under development at Apple and elsewhere, but shipping models are hard to find. One example is the Samsung i8520 Beam, an $800 Android phone with a Texas Instruments DLP Pico Projector. (Two Fujitsu Lifebook laptops, the S761 and P771, have slide-out projectors as well).
Pico projectors aren't ideal, however. What if there's no table, tray, or blank wall to project an image onto? And privacy concerns come into play. A laptop screen affords some degree of privacy, but a projected image is, well, out there for everyone to enjoy.
You may be asking: What about tablets? Couldn't they replace laptops just as easily? Perhaps, but the issue of size remains with a tablet (some of them about the same dimensions as the sleekest notebooks). Smartphones, with their slim-and-light, pocket-friendly dimensions, are better suited in the long run to replacing the personal computer as we know it.
Contact Jeff Bertolucci at Today@PCWorld, Twitter (@jbertolucci) or jbertolucci.blogspot.com, and follow Today@PCWorld on Twitter, too.