If you're shopping for a hefty laptop, big HD TV, or a Kindle Fire, February will be a good month to pull the trigger on a purchase.
Laptop Options
Dreadnought notebooks — laptops in name only, as they're really designed to replace desktop computers — are selling at all time low prices, according to DealNews.com. Seventeen-inch notebooks with muscular Intel Core i7 processors and 8GB of RAM have been selling for around $800 — "a price we've never seen before," the site says.
Meanwhile, pricing for dual-core mid-sized notebooks continue to rise, it notes.
A wild card in the notebook market is the ultrabook. Scores of new models appeared at CES in January, and they'll be arriving on the shelves in February. When they do, they could drive down the prices of conventional 12- to 13-inch notebooks.
Before the ultrabook tidal wave hits the retail channel, though, one ultrabook-maker, Lenovo, appears to be exploiting the ultraportable notebook trend with its IdeaPad U260. Although not technically an ultrabook, the U260 does have some ultraportable specs — 12.5-inch display, Core i5 processor at 1.33 GHz, 4GB RAM and 320GB HDD. With many ultrabooks entering the market in the $800 to $1400 price range, the U260 looks like a bargain, according to Decide.com.
Hot TVs
Following holiday madness, the prices for HD TVs have climbed back to pre-holiday levels. Sets with 42-inch screens are selling at pre-September prices and pricing for 55-inch, 3D monsters have returned to the $1300 plateau from their $999 holiday pricing.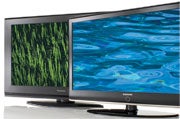 However, the market trend appears to be downward in non-3D behemoths — sets in the 55- to 60-inch range — according to DealNews. Name-brand 55-inch LCD TVs sold for $800 in December. Those prices continued thorough January, which leads DealNews to believe "we could see better or equal deals on these sets trickle into February."
Meanwhile, the price for 60-inch sets hit an all-time low in January of $1000. That price, too, could continue through February.
Tablets and E-Readers
Since Amazon keeps a tight rein on Kindle Fire pricing, it's difficult for retailers to chip away at its $200 pricetag, but Walmart has found a way to do it. It launched a sale on Sunday, which will run through Feburary 14, that gives a $50 gift card to anyone who buys a Fire for $200, effectively reducing the price of the Amazon tablet to $150.

Tablet computers in general, however, may be an item shoppers may want to delay purchasing during February. The electronic slate market is greatly influenced by what Apple does and no one knows for sure when its next generation iPad will be introduced.
Rumors persist of a February launch for the 3G version of Apple's iconic tablet. If that were the case, they'd be some deals to be had on the iPad 2. Resellers would want to move inventory to make room for the new model or, as has been theorized by some, the Apple could continue to product the iPad 2 and sell it at price that competes with Amazon's Kindle Fire.
If you're shopping for a digital camera, February is definitely not the month to do it, according to DealNews. While there are some good deals out there on cameras, it noted, they can't compare to the quality of the deals during the months running up to the holidays.
Follow freelance technology writer John P. Mello Jr. and Today@PCWorld on Twitter.