If Samsung's latest Apple-bashing commercial during Super Bowl XLVI Sunday had you frothing at the mouth for the Samsung Galaxy Note, you can now place an advance order for the device from AT&T. The Korea-based gadget maker's latest addition to the Samsung Galaxy line will cost $300 with a new two-year contract from ATT.com or any company-owned retail store.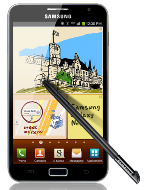 The Galaxy Note will launch on AT&T on February 19, but anyone who pre-orders the device by February 15 will get it delivered by February 17, according to AT&T. You can also pre-order from BestBuy.com for shipping after February 19.
The Samsung Galaxy Note features a 5.3-inch Super AMOLED screen with 1280-by800 resolution, 1.5GHz dual-core processor, 16GB onboard storage, plus a microSD slot supporting up to 32GB for 48GB maximum. The device also has Bluetooth 3.0, LTE, and 802.11 a/b/g/n Wi-Fi connectivity, an 8-megapixel rear-facing camera, 2-megapixel front-facing camera, 1080p video capture at 24-30 frames per second, and Android 2.3 Gingerbread. The Galaxy Note comes with a Wacom-made "S Pen," a so-called advanced smart pen that can detect pressure and change the boldness of your handwriting accordingly. The Galaxy Note comes in blue or white.
Stylus Mania
Samsung kicked off the American introduction of the Galaxy Note with a festive Super Bowl commercial that mixed humor and Super Bowl-style grandiosity, plus a large heaping of self delusion. As we've seen from other Samsung Galaxy ads, it starts with a line up of bored Apple drones waiting in line for the next great iPhone when they are suddenly freed by the realization they can just buy a Samsung device (which apparently never warrants a massive line-up). Soon after, one of Samsung's Apple acolytes utters, "It's got a pen? This is awesome." I guess it's still 1997 in Samsung land.

While it's unlikely many people will be lining up just to get their hands on a fancy stylus, it's also too soon to write off Samsung's digital pen (pun intended). The company recently released a software development kit for the Note and the S Pen, giving third-party app makers the chance to offer stylus inputs in their software. Given the popularity of the stylus-centric Nintendo DS, developers may find some interesting uses for the S Pen beyond simple handwriting recognition.
Samsung Galaxy Note
Connect with Ian Paul (@ianpaul) on Twitter and Google+, and with Today@PCWorld on Twitter for the latest tech news and analysis.