Netflix's great plunge into creating original content for its members began Monday with the online release of Lilyhammer, an eight-episode series with Steve Van Zandt in the familiar role of mobster.

Van Zandt, who also jams with Bruce Springsteen's E Street Band, played "Silvio" on the HBO hit series "The Sopranos."
In Lilyhammer, Van Zandt goes into the federal witness protection program after ratting on fellow gangsters. He chooses to be located in Lillehammer, Norway, because he made an idealized connection to the place after watching it on television during the 1994 Winter Olympics.
His vision of Lillehammer as a paradise of "clean air, fresh white snow, and gorgeous broads" doesn't quite mesh with reality, however.
The series has been on Norwegian television for three weeks, where more than 20 percent of that nation's population watch it weekly, making it the most watched show in Norwegian television history.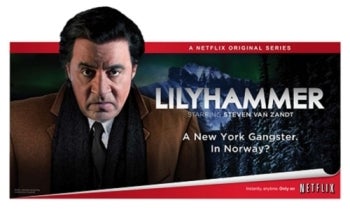 Netflix is breaking the mold in several ways with its distribution method. For instance, it's releasing all episodes at once. Viewers don't need to keep coming back week after week to see another episode. That strategy appears to be aimed at doing something Netflix hasn't been too good at lately: giving its customers what they want.
"We are trying to give our members what they want: choice and control," Netflix Chief Content Officer Ted Sarandos writes in a company blog. "If you want to watch one episode a week, you can. If you want to watch the whole season this week, you can do that too."
In addition to being debuted online in North America, at the same time the series will be shown in Latin America. That kind of distribution is made possible by the Internet and holds new potential for series like Lilyhammer.
"With no physical need for fragmented distribution, the possibilities for a regional TV show or movie to reach a global audience are limitless," Sarandos explaines.
Lilyhammer and another original series, "House of Cards," slated for release later this year, are part of a strategy by Netflix to build its reputation as a provider of quality content, similar to what premium networks, HBO and Showtime, and AMC have done on cable TV.
After giving its subscribers plenty of reasons to leave the service last year, Netflix is hoping that its new original content will give its customers a reason for sticking with the service.
Follow freelance technology writer John P. Mello Jr. and Today@PCWorld on Twitter.