Asus has unveiled the U47, an ultraportable laptop based on Intel's next-generation Ivy Bridge processor. Thanks to thin bezels, the U47 boasts a sizable14-inch display within a thin-and-light 13-inch shell.
To be exact, this aluminum-clad laptop is just an inch thick (25.1 mm) and weighs in at a mere 2.9 pounds (1.32 kg). The U47 may not look as sleek as razor-thin Ultrabooks such as the Asus UX31, but it's certainly more portable than many midsize laptops. (The 14-inch HP Envy, for example, seems downright heavy now at 5.6 pounds, and even the Dell XPS 14z, which is another ultraportable that squeezes a 14-inch display in a smaller 13-inch chassis, weighs more than the U47, at 4.4 pounds.)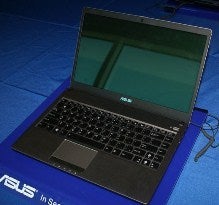 Besides portability, the U47 offers attractive configuration options, according to Notebook Italia. In addition to Core i5 or Core i7 processors, the laptop supports up to 8GB of memory and hard drive storage of up to 1TB.
You'll also be able to equip the U47 with a dedicated Nvidia GeForce video card. Factor in the DVD writer and the eight hours of battery life, and the U47 looks like a laptop designed for power users. The display, however, is your typical 1366-by-768-pixels resolution.
Asus hasn't released pricing yet, but the U47 is expected to compete against 14-inch and 13-inch laptops alike in the second quarter of 2012.
Follow Melanie Pinola (@melaniepinola) and Today@PCWorld on Twitter.