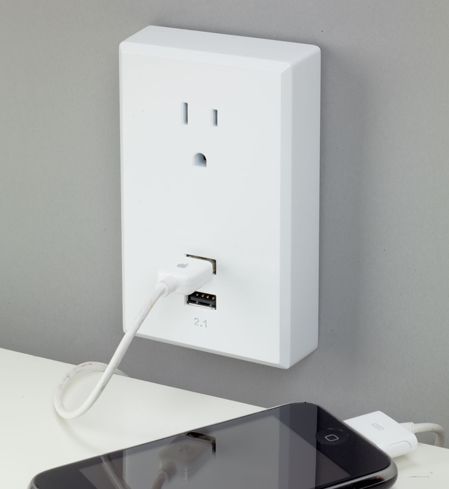 Most modern smartphones, tablets, MP3 players, and other gadgets rely on USB-based chargers. Some of these come with their own AC wall adapters, while others include nothing more than a USB cable–meaning you have to plug them into your PC to get them charged. (I'm thinking in particular of Amazon's entry-level Kindle.)
In both cases, charging gets to be a hassle. You've either got bulky, unattractive AC adapters cluttering up your outlets, or you're leaving your PC running 24/7 just to pull charger duty.
That's why my new favorite item is the RCA USB Wall Plate Charger. A "Best of Innovations" award winner at this year's Consumer Electronics Show, the Wall Plate Charger is definitely an idea whose time has come.
Unlike some similar USB outlets I've seen, this one requires no wiring. That's because it doesn't take the place of an existing AC outlet, but rather plugs into one. (It's literally a plug-and-play solution.)
The Wall Plate Charger gives you one AC socket and two USB ports–the latter able to charge two smartphone-size devices simultaneously. You can also plug a tablet into the 2.1-amp lower port, which supplies enough juice to charge those larger batteries.
I just picked up one of these, and it's terrific. I've used it to charge an iPad and iPod Touch at the same time, and it worked like a charm. And although you still have wires wending from your wall, at least you're rid of those unsightly wall-wart adapters.
The RCA USB Wall Plate Charger has a list price of $19.99, but Lowe's currently sells them for $14.99 (plus sales tax, natch). Definitely a worthwhile buy, in my humble opinion.
Contributing Editor Rick Broida writes about business and consumer technology. Ask for help with your PC hassles at hasslefree@pcworld.com, or try the treasure trove of helpful folks in the PC World Community Forums. Sign up to have the Hassle-Free PC newsletter e-mailed to you each week.