An elderly woman is the first person in the world to be fitted with a 3D-printed body part–a new lower jaw.
According to the BBC, the 83-year-old patient had long suffered from a badly infected lower jaw that was considered too risky to operate on by way of traditional methods. Due to the associated risks, doctors turned to 3D-printing as a viable alternative.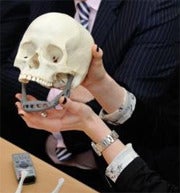 The solution came together through a collaboration between academics, doctors, scientists, and engineers. The BIOMED Research Institute at the University of Hasselt worked with engineers from the Xios University College, the Medical Engineering department from the University of Leuven and the facial surgery team at the Orbis Medical Center.
These academics took their research to Netherlands-based Xilloc Medical, which created the design for the required lower jaw. With a design complete, it was over to Belgian-firm LayerWise to print it.
LayerWise built the jaw implant from titanium powder and a special artificial bone plasma coating, and it took only a few hours to print. LayerWise's printer makes use of a laser beam to melt the layers of titanium together to ensure a solid end resuit.
The completed lower jaw implant weighs in at 107 grams, which is said to be slightly heavier than a natural jaw, but not so much so that it's uncomfortable for the patient.
The operation to fit the printed jaw took surgeons just a few short hours, rather than the usual 20-plus hours that a traditional reconstruction procedure could take. The patient was at home speaking and eating within a matter of days after the surgery–an unusually quick recovery time for this type of operation.
The whole thing is rather impressive, if a little disconcerting. The team behind this world first say that this operation opens the way for more 3D-printed patient-required body parts.
[LayerWise via BBC | Images: University of Hasselt]
Like this? You might also enjoy…
Get more GeekTech: Twitter – Facebook – RSS | Tip us off | Follow Chris Brandrick