At a Glance
Expert's Rating
Pros
Generous paper capacity
Fast print speeds on plain paper
Extremely affordable ink
Cons
Difficult push-scan setup
Our Verdict
Lacking only a legal-size scanner platen, this small-office MFP contender has speed, dual input trays, and sharp output.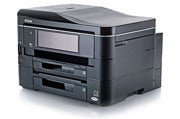 The $199 (as of February 6, 2012) Epson WorkForce 845 color inkjet multifunction printer has a lot going for it. In particular, its above-average capacity and paper handling, top-notch performance, and very good output will fulfill the needs of a small office or home office well. A few setup and interface miscues are all that stand between this product and SOHO nirvana.
Paper handling on the WorkForce 845 includes a generous 500 sheets of capacity (split between two 250-sheet stacked trays), automatic duplexing, and automatic two-sided scans of documents placed in its 30-sheet ADF. Duplexing is fully supported on the Mac, as well. The scanner is letter/A4-size, and the lid telescopes almost a full inch–after a solid tug. Looking for full legal-size support? The HP Officejet Pro 8600 Plus has a legal-size platen (and a higher purchase price).
The WorkForce 845 processes plain-paper documents in a hurry. In our tests, text at default settings printed at 11.5 pages per minute on the PC and 11.3 ppm on the Mac–far faster than the average. Our snapshot-size photos printed to plain paper at an outstanding 5 ppm, though they slowed to a rate of only 0.9 ppm on glossy photo paper. Printing letter-size glossy photos on the Mac proceeded at a middling 0.4 ppm, and scan times were about average.
Though fast, the WorkForce 845 produces output that appears anything but hasty. At standard settings, text looks black and sharp. When you choose the slower (and more ink-intensive) "fine" mode, the results are nearly laserlike. Color graphics printed to plain paper are exceptionally accurate, and closer than usual to the quality of their glossy-paper counterparts. Said glossy-paper photo prints have a slightly cool color temperature (and an ever-so-slightly pink bent) but show exceptional detail. Overall, subjects have a bright but realistic appearance. Epson's printers also feature economy and fast-economy print modes that accelerate print speed and can save on ink costs, at the expense of print quality.
The WorkForce 845 is nonconformist in one good way, shipping with Epson's extra-high-capacity cartridges (model 127), a 945-page black and 755-page cyan, magenta, and yellow. Few inkjets offer anywhere as many pages right out of the box. Replacing those cartridges will set you back $29.49 for the black and $20.39 apiece for the colors. That works out to 3.1 cents per page and 2.7 cents per page per color, or an economical 11.3 cents for a four-color page. We recommend that you replace spent cartridges with the same extra-high-capacity tanks, as the merely high-capacity (model 126) tanks are just average in cost: 4.8 cents per page for black and 3.6 cents per page for each color, or 15.7 cents for a four-color page.
The WorkForce 845's other departures from the norm are less appealing. Why force users to select 'Change ink cartridges' from the Maintenance menu to move the ink carrier into position for removal? On most printers, that action transpires automatically when the user lifts the hood. In addition, the power button requires a nearly 2-second press to cycle the unit on, yet the MFP reacts instantaneously to a power-off press; for most printers, it's the other way around.
Another problem we rarely encounter with other printers is difficulty setting up push scanning–that is, initiating scans to a networked PC from the printer's control panel. This is a must-have capability in an office environment to avoid running back and forth between the PC and MFP to feed new documents. The WorkForce 845 fully supports push scans via USB, requiring no tweaking–but when we tested the unit via wireless, we had to add an exception for the Epson Event Manager software to the Windows Firewall manually, restart the PC, and then double-check that the exception stuck. And in our case, we had to redo the exception after the restart. You may simply elect to disable the Windows Firewall instead, though this move is dangerous unless your router has a firewall. Epson's documentation on this process is vague.
The Epson WorkForce 845's annoyances pale in comparison with its strengths: speed, capacity, high-quality output, and affordability. It's a bargain for a small-office MFP. Just make sure to deal with the wireless push-scanning issue at setup time so that you can confirm early on whether the unit will work in your environment. If you'd prefer an alternative, another model worth considering in this price range is the Canon Pixma MX882, which has comparable features but is somewhat more compact.