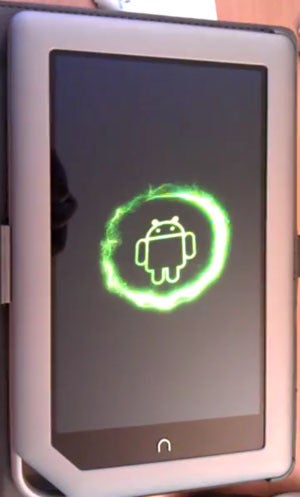 The Nook Tablet may be a solid gadget on its own, but tinkerers are obviously itching to have at it. Since its release in November last year, full root attempts include using the "zergRush" method, and some have figured out how to sideload Android apps onto it. So perhaps you'll be pleased to know that the hackers have found a way to run CyanogenMod 7 on the Barnes & Noble tablet.
XDA-Developers member CelticWebSolutions undertook the project, which for now is not available to the general tinkerer. Sadly, this is because the port is still pretty buggy, and there is a chance you may brick your Nook if you don't follow the exact instructions. There are two methods to achieving the root so far–internally and via the SD Card slot—and download links will be available once CM7 is a bit more solid on the tablet.
Bad news aside, the CM7 port lets you strip the modified Android OS that comes on the Nook Tablet (but you can still restore the original OS). Alternately, you can simply boot from an SD Card so you don't have to wipe your tablet. Once you've got CM7 loaded up, you'll be able to access 12GB of storage, the Android Market, third-party keyboard apps, and voice control.
XDA Developers will no doubt start work on porting the latest CM9 to the Nook Tablet shortly too, but for now, the main focus is making this version of the software more stable. Check out the video below to see it in action.
Like this? You might also enjoy…
Get more GeekTech: Twitter – Facebook – RSS | Tip us off