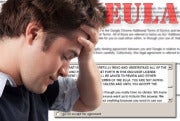 Long, confusing, and littered with jargon, end-user license agreements (EULAs) are all too easy to ignore. Instead of taking the time to read and understand the legalese, we just scroll to the bottom, click Accept, and get on with our lives. Did checking the "I agree" box have any consequences? Who cares, right? Gulp!
Of course, by ignoring the words of the agreement and clicking the button at the end, we may be agreeing to all kinds of unfair terms and conditions. If someone complains, companies can just point to their EULA and say, "too bad!" Here are some of the most common "gotchas" found inside EULAs and terms of service (TOS) statements, as well as which companies are guilty of tricking users.
From Facebook's Statement of Rights and Responsibilities: "You grant us a non-exclusive, transferable, sub-licensable, royalty-free, worldwide license to use any IP content that you post on or in connection with Facebook (IP License)."
If you print out a photo, the company that makes the photo paper doesn't claim any rights to your work. But that's exactly what some online services try to do when you store your content with them. Facebook, for instance, amended its Terms of Service in 2009 to claim broad rights to users' content, such as photos and videos. Adobe tried to do the same with Photoshop Express in 2008. Both companies have since narrowed down their EULAs, but Facebook still says it can use your content for as long as it exists on your account.
Companies make these claims not necessarily because they want to resell your content for profit, but because they might like to feature your photos, videos, or writings in advertisements. Nintendo, for example, claims an irrevocable license on Nintendo 3DS user-generated content for "promotional or marketing purposes." Users should at least get a say in whether that happens.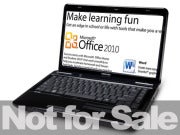 You Can't Sell What You Create Here
From Microsoft Office 2010's End User License Agreement: "For software marked 'Home and Student' edition…The software may not be used for commercial, non-profit, or revenue-generating activities."
Educational pricing, if you can get it, may save you hundreds of dollars on programs like Microsoft Office and Adobe Photoshop. But the EULAs also include clauses that prohibit you from using the software for commercial gain. And as Microsoft Office's Home and Student edition proves, even noneducational software may come with restrictions on commercial use. These rules may not be easy to enforce, but they're something to keep in mind.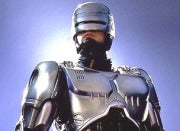 We'll Hand Your Data to Law Enforcement
From Google's Privacy Policy: "We will share personal information with companies, organizations or individuals outside of Google if we have a good-faith belief that access, use, preservation or disclosure of the information is reasonably necessary to: meet any applicable law, regulation, legal process or enforceable governmental request."
Should the government need to look at what you're doing online, most service providers will cooperate when issued a subpoena. That includes Web mail providers, such as Gmail, and online storage lockers, such as Dropbox. Also, many of these services don't have a policy of notifying users about these searches–which means law enforcement can read your e-mail in secret. Although government snooping isn't a concern for most law-abiding citizens, the sheer volume of data we put online, and how easily it can be accessed, is scary to think about.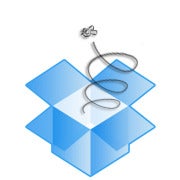 Not Our Problem If We Lose Your Data
From Dropbox's Terms of Service: "You, and not Dropbox, are responsible for maintaining and protecting all of your stuff. Dropbox will not be liable for any loss or corruption of your stuff, or for any costs or expenses associated with backing up or restoring any of your stuff."
As the sudden closure of MegaUpload proved, your data is not always safe in the cloud. If that data gets lost, companies' terms of service ensure that you can't do anything about it. Virtually every online storage locker covers itself with a "use at your own risk" policy, including such services as Dropbox, MediaFire, Box.net, and, of course, Megaupload. Make backups.
No Hacking or Modding Allowed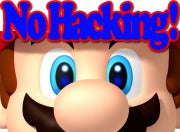 From Nintendo's 3DS Service User Agreement: "After the Nintendo 3DS menu is updated, any existing or future unauthorized technical modification of the hardware or software of your Nintendo 3DS System, or the use of an unauthorized device in connection with your system, will render the system permanently unplayable."
Thanks to the rise of Internet-connected devices and app stores, tech companies have become obsessed with dictating how you may use their products, in order to crack down on piracy. In most cases, EULAs will state that your warranty becomes void when hacking or modifying a device, but some electronics makers have gone to greater extremes. Microsoft and Sony ban users with modded game consoles from Xbox Live and the Playstation Network, respectively, and Nintendo threatens to turn its Nintendo 3DS into a brick if modified.
App or Feature We Don't Like? There's a Kill Switch for That.
From Microsoft's Windows Store Terms of Use: "In cases where your security is at risk, or where we're required to do so for legal reasons, you may not be able to run apps or access content that you previously acquired or purchased a license for."
The Internet has done wonderful things for our gadgets, allowing them to acquire new capabilities at any time, but it also gives gadget makers a way to cripple their products if necessary. Sony, for instance, removed the 'Install Other OS' feature from the Playstation 3 due to piracy concerns, and HTC has been forced to remove some functionality from its Android devices after losing a patent battle with Apple. EULAs allow these companies to make changes to their software at any time, so you can never be sure that a feature lasts forever.
The kill switch also lurks within app stores. Apple, Google, and Microsoft all reserve the right to remotely remove apps from users' devices. Fortunately, only Google has used the kill switch so far, and only to eliminate malware.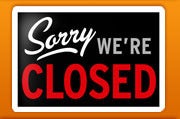 If We Shut You Down, Good Luck Getting Your Data Back
From Google's Terms of Service: "You acknowledge and agree that if Google disables access to your account, you may be prevented from accessing the Services, your account details or any files or other content which is contained in your account."
You don't have to look far on the Internet to find horror stories about lost user data. Take, for example, the case of Mirco Wilhelm, whose 4000 linked Flickr photos were deleted when the service accidentally flagged him for copyright infringement. Or read the horror story of Dylan, whose seven years of Google activity vanished when the system "perceived a violation." At least in the real world, if you get evicted from your home, you can take all your stuff with you.
Don't Even Think About a Class Action Lawsuit
From AT&T's Wireless Customer Agreement: "You agree that, by entering into this Agreement, you and AT&T are each waiving the right to a trial by jury or to participate in a class action."
Thanks to a Supreme Court ruling last year, tech companies are allowed to block class action lawsuits in their terms of service. The ruling allowed AT&T to force customers into arbitration, which tends to favor companies over consumers. Since that court decision, several companies have taken advantage of the opportunity to stop potential class action lawsuits. Microsoft, with its Xbox 360, and Sony, with its Playstation 3, are notable examples. Sony allows users to opt out of the agreement within 30 days, but Microsoft does not.
Of Course We Have Device Limits

From Netflix's Terms of Use: "YOU MAY INSTANTLY WATCH ON UP TO SIX UNIQUE AUTHORIZED NETFLIX READY DEVICES. YOU WILL BE ALLOWED TO INSTANTLY WATCH SIMULTANEOUSLY ON ONLY ONE SUCH DEVICE AT ANY GIVEN TIME."
Silly consumer. Just because you bought something doesn't mean you can use it however you want. Netflix, despite saying that it doesn't limit simultaneous streams, allows itself to restrict both the number of movies watched and the number of devices used. These restrictions are also common with streaming music services, such as Spotify and MOG.
Limiting software installations is also common practice. Microsoft Office Home and Student, for example, allows use on only three devices per copy. Computer games use digital rights management (DRM) tools such as SecuROM to control the number of times a user can install the software. You'll often find those limits stipulated in the EULA. The goal, with all these restrictions, is to prevent piracy, but paying customers get caught in the crossfire.
We'll Change the Rules Whenever We Want
From Blockbuster's Terms and Conditions: "Blockbuster may at any time, and at its sole discretion, modify these Terms and Conditions of Use, including without limitation the Privacy Policy, with or without notice. … If you do not agree to any modification of these Terms and Conditions of Use, you must immediately stop using this Site."
Tech companies love to give themselves the ability to change their terms of service at any time–which, as the nature of their products change over time, does make sense. What you must watch out for are companies like Blockbuster, which declare that they can change their terms at any time without notice. Although these conditions don't always hold up in court, it doesn't stop companies from trying.
Even companies that send notice of new terms aren't doing you any favors. Apple, for instance, requires users to agree to changes in its terms, but doesn't bother to summarize what has changed. That means you've got to become intimate with the legalese to know what rights you might be giving up.
Follow Jared on Twitter, Facebook, or Google+ for even more tech news and commentary.