At a Glance
Expert's Rating
Our Verdict
SocialOomph is a cloud-based application that offers tools for using Twitter and Facebook more productively.
It's no secret that looks matter, even when it comes to the software and Web services we use. Take SocialOomph, for example. This social-media management service is held back by its plain-Jane interface, but if you can overlook this shortcoming, you'll find that it offers a pretty powerful set of features for managing your Twitter account.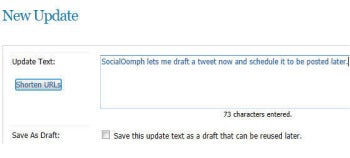 Unlike rival TweetDeck, which is completely free, SocialOomph offers both free and paid versions. The free version is limited to managing Twitter accounts, while the Professional Account ($17.97, bi-weekly) adds support for Facebook and various blogging services, while also offering additional Twitter management tools. In addition to the Professional service, SocialOomph offers two additional paid subscriptions: one for its Twitter Advanced Scheduling Service ($12.97, bi-weekly) and another for its Auto-Follow & Auto-DM service for Twitter ($3.97, bi-weekly). This review focuses on the free version of SocialOomph.
The experience of using the unattractive, text-heavy SocialOomph is very different from navigating the slickly-designed TweetDeck, yet the end result is the same: Accessing the service's key features is pretty easy. You can easily schedule a tweet for future posting, and I like that you can save the text as a draft for future updates. The free version of SocialOoomph lets you manage an unlimited number of Twitter accounts, and it's very easy to switch between them–even more so than when using TweetDeck.
Even in its free version, SocialOomph emphasizes the social aspect of Twitter. It includes features for vetting new followers, allowing you to see information, such as the ratio of accounts they're following compared to how many followers they have, how many status updates they've posted, and when their account was created, among others.
SocialOomph also helps you promote yourself by offering you the ability to create an extended Twitter profile to provide more information about yourself. But all this does is send anyone who clicks on the Web link that appears on your Twitter profile to a page that's hosted on SocialOomph's site. Sure, you have the option to fill in the text, but you could do the same thing on your own Web site–and chances are good that you could make it look a lot better.
SocialOomph also offers a few features that will appeal to users who are looking to wipe their Twitter slate clean. It allows you to delete all of you tweets, without deleting any followers, and offers an option for purging your DM inbox.
SocialOomph's free features compare nicely with those of TweetDeck–as long you're looking to work with Twitter only. The free TweetDeck also include support for Facebook, something SocialOomph only offers in its Professional version. But its Facebook features are more extensive than TweetDeck's, as SocialOomph lets you schedule status updates and wall posts. Additional features in the Professional version include the ability to post tweets via email, as well as some security and business management tools.
Business users will appreciate the extra features that the Professional account offers, but SocialOomph's free version offers plenty to make Twitter power users happy. The service definitely suffers from its bland interface, which sometimes makes navigating its many features less than pleasant. But if you can deal with that flaw, SocialOomph has a lot to offer.
–Liane Cassavoy