At a Glance
Expert's Rating
Pros
Smooth, fast performance
Straightforward Android overlay
Cons
Pixels are visible in the display
The camera isn't great
Our Verdict
If you're looking for an inexpensive LTE phone, the Pantech Burst is an excellent option–as long as you don't plan to use it as your primary camera.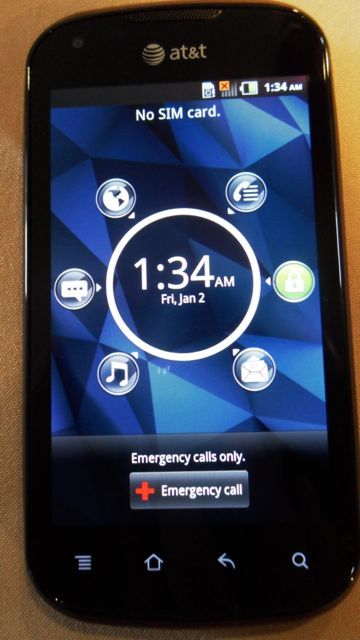 At CES this year, the arrival of inexpensive LTE phones and tablets was one of the overarching themes. In particular, AT&T was pushing this idea, releasing a slew of Android and Windows Phone 7 handsets on its 4G network. The Pantech Burst ($50 with a two-year AT&T contract, price as of February 5, 2012), with its low price tag, high-end specs, and silky-smooth performance, was a breakout star at CES. But if you like to take a lot of photos with your phone, you won't appreciate the Burst's below-average camera and slow shutter speed.
Design and Specs
Traditionally Pantech has made only feature phones and messaging devices for AT&T and Verizon, but in the past year the company has stepped up its game, making midtier, affordable Android phones. The Burst is the first dual-core phone from Pantech, and it's the company's first AT&T LTE phone.
The Burst comes in two colors, red and "titanium." The battery cover has a brushed appearance, which makes the Burst look a bit more high-end. Measuring 5.0 by 2.5 by 0.45 inches, the Burst fits easily into a pocket or bag, and it weighs a manageable 4.32 ounces. It is a bit plasticky, and it doesn't have the feel of a phone four times its price, such as the Motorola Droid Razr or the HTC Vivid. It seems sturdy enough, however, and it can probably withstand everyday wear and tear.
The Burst's 4-inch Super AMOLED display is a step up from that of previous Pantech phones we've seen. In my opinion, 4 inches is the perfect size for a phone display: It's large enough for comfortable gaming, Web page reading, or movie streaming, but it doesn't make the phone feel oversize or unwieldy.
With a 480-by-800-pixel resolution, the Burst's screen isn't as sharp as the displays on other phones we've reviewed recently. Text looks slightly fuzzy, and colors are a little washed out. You can see the display's pixels, if you look closely. The Burst's display is fine for casual gaming, browsing, or watching YouTube videos, but I wouldn't want to read an ebook or watch a feature-length film on it.
Software
The Burst runs Android 2.3.5 with the same custom overlay found on the Pantech Pocket. Generally we're not big fans of Android overlays, but Pantech keeps this one pretty lightweight. You get seven home screens to customize with widgets or shortcuts to apps. At the bottom of every home screen is a navigation bar with shortcuts to the dialer, your SMS messages, the browser, and the apps menu.
A useful 'Easy Setting' pull-down menu resides at the top of the home screen. From there, you can easily toggle the Wi-Fi, sound, Bluetooth, GPS, and so on. Annoyingly, the Burst has no switch to turn off 4G/LTE. Not many manufacturers build this feature into their phones, but it is a nice option to have when you're not in an area that has LTE coverage, and you want to conserve battery life.
The Pantech Burst carries quite a few AT&T-added apps, such as AT&T Code Scanner, AT&T Navigator, AT&T FamilyMap, and MyAT&T, as well as other apps like Amazon Kindle, Qik Lite, Twitter, and YP (Yellow Pages). You can uninstall most of these apps by going to Settings, Application Settings, Manage Applications. Of course, you also get all of the Google apps and services, including Gmail, Google Search, and YouTube.
Fast Performance
A Qualcomm Scorpion 1.2GHz dual-core processor keeps the Burst running smoothly. We ran Qualcomm's own Vellamo benchmarking app on the Burst, and the phone reached an impressive score of 1182, landing above the Samsung Galaxy Nexus (with a score of 802) and the Droid Razr (1070). Because Vellamo is a Qualcomm-made benchmark, however, we take these scores with a grain of salt. I downloaded a few different graphics-heavy games, such as Minecraft, Osmos HD, and World of Goo, and all performed well without any glitches.
Over AT&T's LTE 4G network, the Burst achieved impressive download and upload speeds in San Francisco. In the FCC-approved Ookla Speedtest app, the Burst posted an average upload speed of 10.48 megabits per second and an average download speed of 16 mbps.
Call quality over AT&T's network in San Francisco was very good. Callers sounded clear, with an ample amount of volume. When I made calls from a busy street corner, my friends on the other end of the line reported that they heard no background noise.
Mediocre Camera
The Burst's 5-megapixel camera is possibly the phone's biggest weakness. My photos, shot indoors and out, had a strange, hazy look. Colors were faded, and details seemed fuzzy. The flash barely manages to light up your subject, so don't even think about using the Burst in a dark restaurant or at a concert. The camera's shutter speed is also painfully slow; trying to capture fast-moving subjects, such as kids or animals, is difficult.
The camcorder, which captures video at 720p, wasn't much better. As you can see in the test video below, it produced a lot of flickering and stuttering when fast-moving objects (such as the cars) passed by.
Bottom Line
Buying a budget-friendly smartphone always involves trade-offs, but fortunately the Pantech Burst has very few. AT&T's LTE network offers blazing speed (in cities where coverage exists), and the dual-core processor keeps the phone running well. But if you're planning on taking a lot of photos with your phone, you'll be dissatisfied with the Burst's camera. The slow shutter speed, paired with the hazy image quality, is this phone's biggest weakness.