Google, a company we know for its search engine, driving directions, Easter eggs, omnipresent ads, free webmail, news aggregation, and heads-up glasses. Wait, glasses? As in eyewear for your face?
That's right, claims 9to5Google — Google's working on heads-up glasses (or goggles) that look something like the shades donned by the Cyberdyne Systems Model 101 Series 800 Terminator (aka "Arnold wearing leather and a frown") in the 1984 James Cameron flick. The glasses are supposed to include phone functionality, and they're far enough along that Google might launch them in beta mode to the public sometime this spring.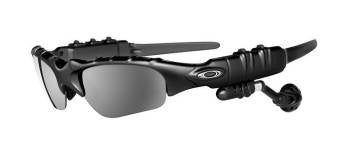 According to 9to5Google's tipster, the glasses — said to have the processing power and storage of a last-generation Android phone — look like Oakley Thumps, have a teensy front-facing camera to snap pics (including a flash), but also to soak up incoming information the integrated computing system can use to "overlay" whatever you're looking at, augmented reality-style. They also include a mic, speakers, and function as a phone (they're said to have Internet connectivity and GPS, too).
Before you start squirreling money away for a pair, a few caveats: The heads-up display is apparently for one eye only (and it's not transparent, for some reason). Also: If you want to scroll around or "click," you have to tilt your head. Imagine what the Roxbury Brothers (Chris Kattan, Will Ferrell) might do with a pair of these.
It sounds like Google's still trying to decide how to get these things into the public's hands (you can imagine their trepidation — from the Virtual Boy to stereoscopic 3D eyewear, this kind of tech has a decidedly niche appeal). 9to5Google says Google's "unsure if [the glasses] will have mass-market appeal" and that they're "considering making this a pilot program, somewhat like the Cr-48 Chromebooks last year."
In any case, the sense I've always gotten from interface designers is that people only like wearable stuff if it's stylish and works with what they'd otherwise wear anyway. A pair of attractive, lightweight, affordable glasses with a heads-up display and Internet capability would still have to be functionally inobstrusive to get the general public interested, though the potential for speciality applications, from industrial to military use, would be boundless.
Matt Peckham writes for TIME and PCWorld. You can find him on Twitter, Facebook, or Google+.