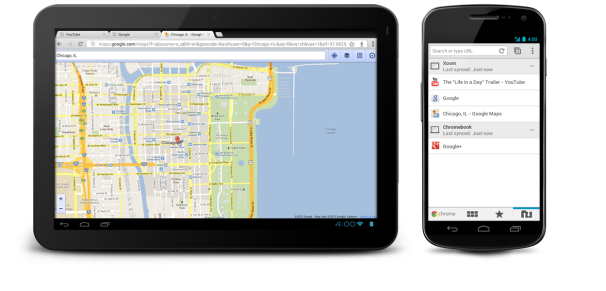 With the arrival of Chrome Beta for Android, the convergence of Google's desktop and mobile browsers has begun.
Chrome Beta for Android includes desktop features such as tabbed browsing, Incognito mode and bookmark syncing. It can also list any tab that's currently open on the user's desktop version of Chrome, and open it on the phone.
Now for the bad news: Chrome for Android is only available on devices running Android 4.0, known as Ice Cream Sandwich. Right now, that includes Samsung's Galaxy Nexus and Nexus S, Motorola's Xoom and Asus' Transformer Prime. Users can get the browser free from the Android Market.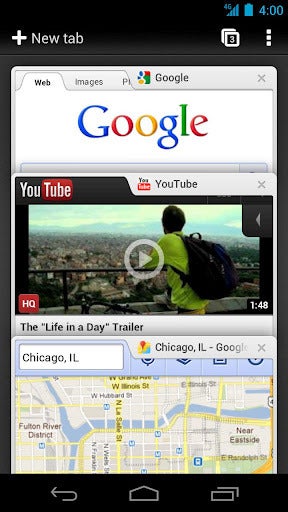 Here's everything else you need to know about Chrome for Android:
How Does Tabbed Browsing Work?
On Android phones, individual tabs don't appear on screen together, like they do in some third party browsers such as Dolphin. Instead, you quickly move between tabs by swiping from the phone's left or right bezel, or show all tabs by tapping a button next to the search and URL bar. On tablets, tabs are arranged side-by-side, in similar fashion to the existing stock Android browser.
Chrome for Android places desktop bookmarks in their own folder on the mobile browser's new tab page, so they don't get mixed up with other bookmarks. Another section of the new tab page shows any open tab for any computer that's signed in to the user's Google account. The mobile browser also syncs auto-complete suggestions from the desktop, drawing on your search and browsing history.
What Other Features Are There?
As TechCrunch reports, Chrome for Android uses hardware acceleration to make browsing feel smoother and snappier, and it can pre-load pages based on what links it thinks you'll click, just like desktop Chrome (but only over Wi-Fi, to prevent excess mobile data use). It also includes some advanced HTML5 features such as Web Workers, which allow Web apps to update in real-time. Unfortunately, the browser doesn't yet have a way to always request the desktop version of Websites instead of mobile-optimized sites.
The browser also has one other feature not found in the desktop version of Chrome: When tapping on an area filled with links, a magnified view appears to ensure you're clicking on the right thing.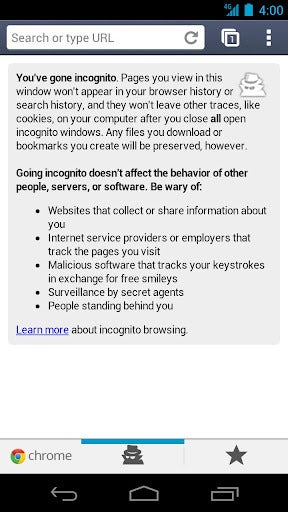 What About Plug-Ins and Extensions?
The current version of Chrome for Android doesn't support plug-ins, but All Things Digital reports that the browser's architecture supports them. There are no plans to support Flash on the mobile browser, however. As for extensions, MG Siegler reports that Google is figuring out how to make them work best on mobile devices.
Why Only Android 4.0?
According to MG Siegler, Chrome for Android uses APIs not found in earlier versions of Android, so there's not much hope for Gingerbread or Froyo users. As TechCrunch points out, Firefox for Android offers similar syncing features between the desktop and mobile devices, if that's any consolation.
What Will Become of the Stock Android Browser?
Eventually, it'll go away, but Google hasn't announced timing. Still, with Android's ability to set alternate browsers as the default, Android Ice Cream Sandwich users can make a complete switch to Chrome today.
Follow Jared on Twitter, Facebook or Google+ for even more tech news and commentary.