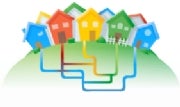 If you're not a resident of Kansas City, be jealous. Be very jealous.
Google is ready to begin building its 1Gbit-per-second broadband network in and around Kansas City, a blazingly fast service that's at least 100 times faster than the residential broadband most Americans use.
Even worse–that is, if you don't live in Kansas City–the experimental gigabit service will be priced competitively, Google says.
"We've measured utility poles; we've studied maps and surveyed neighborhoods; we've come up with a comprehensive set of detailed engineering plans; and we've eaten way too much barbecue. Now, starting today, we're ready to lay fiber," writes Google Access general manager Kevin Lo on the Google Fiber Blog.
Lo's post doesn't say when the high-fast network, which was originally slated for a 2012 launch, will be up and running. The Google Fiber project was announced in early 2010. Numerous U.S. cities lobbied hard to become the first city to receive the company's gigabit network.
During the competition, the city of Topeka even temporarily changed its name to "Google, Kansas," but apparently the search giant wasn't swayed by flattery. Google instead picked Kansas City, some 65 miles from Topeka, as the high-speed winner.
So what can you do with a gigabit network? Well, insanely fast broadband enables services not feasible with today's slower connections, such as live 3D video, and HD movie downloads that take minutes rather than hours.
Google hopes that developers, engineers, and entrepreneurs will flock to KC to develop next-generation, bandwidth-intensive applications and services that aren't practical via today's relatively poky broadband networks.
Contact Jeff Bertolucci at Today@PCWorld, Twitter (@jbertolucci) or jbertolucci.blogspot.com.