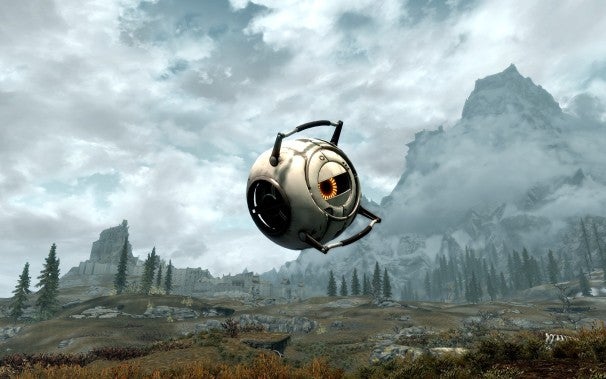 PC gamers looking forward to the release of Skyrim's long-awaited Creation Kit yesterday got a special surprise in the form of a downloadable high-resolution pack for Bethesda's open world fantasy game, along with a special cameo from one of last year's most popular PC games. [Read: The 10 Best Video Games of 2011] Skyrim owners have been excited for the Creation Kit since Bethesda confirmed the official modding tool was coming to PC (for free) soon after the game was released. The Creation Kit promises to make Skyrim's huge world even larger by allowing players to add their own characters, quests, and even geography. While the tools will require a bit of practice to use effectively, the debut of publicly-available modding tools ensures that passionate Skyrim players will be adding even more content to a game that Bethesda advertised as being playable effectively forever. [Read: Skyrim Creation Kit Coming to PC] Of course the Skyrim community is going to need some time to create all this new content, so Bethesda has also released a few extra surprises for the average user. Valve and Bethesda have teamed up to release a special mod to celebrate the launch of the Steam Workshop portal for Skyrim. Fall of the Space Core, Vol. 1 adds the Space Core character from the 2011 hit Portal 2 to Skyrim, permitting you to continue your adventures in Skyrim while the little guy follows you around. Finally, there's a character in Skyrim that's excited when a giant knocks them into the stratosphere. Of course if you're too much of a Skyrim purist to add a high-tech AI space sphere into your game, the new texture pack is still a great bonus and a guaranteed crowd-pleaser for almost everyone. Unofficial high-resolution texture packs have been some of the most popular mods since Skyrim's release; the most popular, Skyrim HD, racked up over 800,000 downloads at Skyrim Nexus (a popular site for downloading Skyrim mods). If you want to try out the creation kit and texture pack they're both currently available for download on Steam, though the high level of demand was causing some problems on Tuesday afternoon. Get downloading now if you can, since the creation kit and texture pack together clock in at 1.3 gigs of data. If you don't have Skyrim yet, Bethesda has also dropped the price of the game itself by 33 percent and is offering Skyrim bundled with the third and fourth Elder Scrolls games, Morrowind and Oblivion, for $49.99.
Like this? You might also enjoy…
Note: When you purchase something after clicking links in our articles, we may earn a small commission. Read our affiliate link policy for more details.