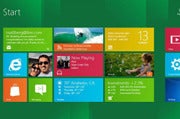 Microsoft still isn't offering a clear answer on whether ARM-based Windows 8 computers will support the classic Windows desktop, but a recent blog post suggests that the company will.
The post, on Microsoft's Building Windows 8 blog, is a rather technical discussion on power efficiency. Buried deep in the post, however, is a discussion of System on Chip (SoC) architectures, and how they can enter a state of "connected standby," during which the computer runs on very low power while still receiving information. The blog discusses how Windows 8 will handle both desktop and Metro-style apps in connected standby.
As ZDNet's Mary Jo Foley points out, ARM-based devices use SoC architectures, so the fact that SoC devices will run both Metro-style and desktop apps suggests that ARM-based computers will support the Windows 8 desktop after all.
The issue isn't cut and dry, though, because Intel is working on its own SoC solution, codenamed Medfield, using x86 architecture. Microsoft's blog post may only be referring to whatever Intel is working on.

What's the big deal about ARM-based PCs? Unlike current x86-based machines, which mainly use processors from Intel and AMD, ARM-based SoC devices generally draw less power and can wake from standby instantly. And as Microsoft's blog post points out, SoC systems can enter a near-sleep state where they can still retrieve e-mails, text messages and other information. Although Intel's Medfield SoC solution sounds promising, and would be able to run all Windows desktop applications, it's not clear whether it'll be tablet-ready in time for the launch of Windows 8.
At some point, Microsoft will need to offer clear answers on how the desktop will work on ARM-based Windows 8 devices, not just for techies, but for average folks who don't care about the technical difference between system architectures. My guess is that the company is still trying to figure out the best possible explanation.
Follow Jared on Twitter, Facebook or Google+ for even more tech news and commentary.