At a Glance
Expert's Rating
Pros
Flexible filtering
Easy installation
Our Verdict
This is one of the most popular Firefox add-ons, and for good reason.
How much would you pay to not have to see anything about someone's weird trick to lose weight that orthodontists don't want you to know about? Is "nothing" a good price to pay? Adblock Plus is a powerful, and free, plugin for Firefox, Chrome, and Thunderbird that strips out almost all advertising from the Web pages you view. Install the plugin, restart your browser, and resume surfing.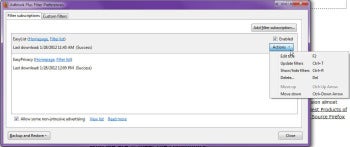 I say "almost all" for two reasons: First, the default configuration, with the user can change with ease, allows in a small amount of non-intrusive advertising: No flashy animations, no popups. These ads are allowed in by a user-editable list of "approved" sites and sources. This is not a bad thing; many sites can exist only because of advertising, and blocking everything, even on sites you like and support, will mean the end of a lot of content. Second, while I haven't found problems yet, it is known that advertisers, especially the ones you most want to block due to the sleaziness of their tactics and their products, are constantly working to find ways around blocking, so there isn't an absolute 100% guarantee that something won't slip by. Fortunately, Adblock Plus includes the ability to report such sneaks (so the algorithms can be updated).
It's quite interesting to compare the same page in a browser with Adblock Plus installed, and in one without. Faster loading, more readable content, and less risk of things being shoved aside by incorrectly-sized images are all benefits of this useful tool, not to mention reducing the problem of otherwise safe sites which contains ads from dubious or hacked sources that attempt drive-by downloads and exploits.
Adblock Plus is free, it's user-configurable so that you can let through some ads, or block more, and I noticed no performance problems or loss of desired content (though this isn't a guarantee it will never happen). There's really no good reason to not install it, unless you like seeing annoying and intrusive ads.
–Ian Harac