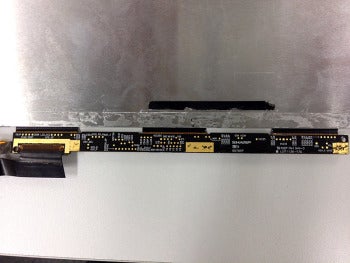 It's iPad 3 fever all over again today as unconfirmed reports of an iPad 3 launch in early March circulate online. Adding to the excitement is alleged leaked pictures of Apple's next-gen iPad "retina display" made by Sharp.
Where would we be without Apple rumors, leaks, and shameless speculation? Probably calmer and better informed, so I'm not betting much on this purported snap of the next iPad's multi-touch screen. Additionally, according to AllThingsD, Apple is planning to roll out its next iPad in March. We have heard these roll-out rumors before. Last time the Internet worked its way into an iPad tizzy the iPad was set to launch in February. That turned out to be balderdash.
I'm not going to join the hordes and speculate on the March arrival of the iPad 3 (or not). But I do find the reports of a retina display very intriguing. Let's take a careful look at what it tells us (or doesn't) about the iPad 3 just the same.
The shot of what looks like a screen component appears on Japanese site Macotakara, a site that posts Apple rumors (but with a mixed track record). They've lifted it from another Japanese site, iLabFactory. The claim: It's an LCD panel made by Sharp, and it's also a 9.7-inch display for Apple's next-gen iPad with Cupertino's trademark Retina Display technology.
Just to remind anyone who's forgotten, "retina" is just a marketing term Apple uses to refer to displays with great than 300 ppi (pixels per inch), which — viewed from a distance of about 12 inches — is the maximum number the average human retina can discern. The iPhone 4 and 4S, running at 960 x 640 pixels across 3.5 inches diagonal, meet this criteria, but the iPad 2, running at 1024 x 768 pixels across 9.7 inches diagonal, doesn't.
Macotakara notes that the labeling on the display indicates it's made by Sharp, then adds it's a QXGA display that "seems to be made…for the upcoming iPad 3." QXGA means the resolution would be 2048 x 1536 pixels, though when you compute the pixel density across a 9.7-inch screen, it comes out to about 264 ppi — short of the generally accepted 300 ppi threshold, though a huge leap over the iPad 2's pixel density of about 146 ppi.
Then again, all we really have here are a couple of Japanese sites putting up pictures and making allegations without clear sources. There's another rumor circulating (with pictures) about the next iPad's aluminum backside, indicating that the iPad 3 (if indeed that's what Apple intends to call it) may have a different logic board, a larger battery, a different camera, and — perhaps bolstering the Sharp rumor's credibility — a redesigned LCD.
Matt Peckham writes for TIME and PCWorld. You can find him on Twitter, Facebook, or Google+.