A quick click through GeekTech's story archive will suggest just how realistic (and sometimes freaky) robotic technology has become. Robots can now beat us at all our favorite pastimes, carry heavy objects for days, wash hair…you name it, robots can probably do it. Now, researchers are working on a robot that not only eats biofuel and drinks dirty water, but can also excrete the waste.
EcoBot III, also known as BreadBot, is a self-sustaining robot created by the Bristol Robotics Laboratory in the UK. It is not only capable of being charged by "food" such as leaves, dirt and, well, feces, but it can also go "poop" in a litter tray like a cat. Its predecessors, EcoBot I and II, would "eat" similar items, but they were unable to release the unwanted by-products.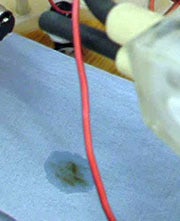 The goal of building a potty-trained robot thart doesn't rely on electricity is obviously pretty good for the environment. However, EcoBot is actually part of a larger project by the university to generate electricity out of urine (!) in third-world countries, using Microbial Fuel Cell (MFC) technology. And thanks to EcoBot's ability to eat fecal matter, NASA has naturally shown some interest in the project too.
Of course, EcoBot won't be taking over the world with its human-like abilities just yet–after all, it is essentially just a robotic digestive system with no "brain"–but the Bill and Melinda Gates Foundation is providing funding for the project, and the project itself could help thousands of people. If successful, the MFC technology could be used in waste and water treatment, and help further develop robots with gills.
Check out a video of EcoBot III finding food and then excreting what it doesn't need. Want to know how the robot poops? Watch BRL's clip, which tests the ability of its insides to pass the waste through.
[Bristol Robotics Laboratory via Geekosystem]
Like robots? You might also enjoy…
Get more GeekTech: Twitter – Facebook – RSS | Tip us off