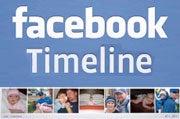 Facebook is beginning to push out its new Timeline layout to all user profiles this week. Business pages on Facebook aren't affected (at least not yet), but your company can take advantage of this shift.
The Timeline is primarily a cosmetic change to the format for displaying content on Facebook profiles. It makes Facebook content more engaging, and it exposes the entire history of a user's Facebook posts in a chronological order that makes it easier to navigate to older material.
In many ways, the new layout would be a welcome change for Facebook business pages. Business Insider reports that details about Timeline for Brand Pages will emerge February 29 during Facebook's Marketing Conference.
For now, at least, businesses can capitalize on Timeline's features to build brand recognition and word-of-mouth marketing. You can get a more detailed explanation from this video by Tommy Walker, an online marketing strategist whose Facebook page is called simply "tommy.ismy.name." Try these tactics to get your company featured on users' Timeline profiles and maximize your exposure on Facebook.
Brand Your Timeline Cover Art
Featured at the top of the Facebook Timeline is a large banner image. This cover art differs from the picture associated with the Facebook profile; that image is displayed in a smaller thumbnail superimposed over the bottom-left of the cover art.
Most people will probably post a picture of their kids, their dog, or a pretty sunset. However, this is prime real estate to show off your business. Use an image of the company logo, a picture of the business, or a team picture of your employees. Make sure the business name or logo is in plain view.
[Related: How to Protect Your Professional Reputation on Facebook Timeline]
To take this a step further, ask your employees if they'd be willing to do the same. You can offer some incentive for those who voluntarily feature your company in their cover art–the more, the merrier to get your brand in front of as many Facebook users as possible.
You can even create paper business cards that feature your Timeline cover art, via Moo.com.
Tag Facebook Photos
Tagging photos is neither new nor unique to the Facebook Timeline, but it can be a very effective way to promote your business and engage customers.
Take pictures of your business, of employees in the office, of your products or people using them, and of anything else of interest, and tag them with your Facebook business page profile. Photos that you tag, while logged into your Facebook business profile identity, appear in the series of five thumbnail images at the top of the Facebook business page. If the series has an image that you'd rather not display there, just click the 'X' that appears at the upper right when you hover over the picture, and it will be hidden and replaced by a different tagged photo.
[Related: How to Build a Facebook Business Page]
For a bigger viral marketing benefit, ask your customers to post photos of your business or products in action and then tag your business in the pictures. When a customer posts a photo, it will appear on their Timeline. If it's associated with your business via a tag, it can lead users within that customer's social network to click through from the photo to learn more about your business.
Encourage Check-ins
Facebook changed Facebook Places and ditched Facebook Deals, but users can still do location-based check-ins.
Check-ins show up on a user's Facebook Timeline and let everyone else in their social network know that they were at your place of business. People trust the recommendations of friends and family more than overt hype, so there's almost no better method of marketing than encouraging customers to let their social network know they do business with you.
Create Social Sharing Apps
If you're really ambitious and your business lends itself to this type of activity, facilitate word-of-mouth marketing across Facebook by developing a social sharing app.
If you have an app that ties into your Facebook Business page, any activity that users engage in on your business page will be reflected in their Facebook Timeline–and it will show up in the ticker so that the rest of that user's social network will be able to see what they're doing or even reading. If they find it interesting, they can click through and view the material as well.
[Related: How Timeline Could Influence Your Next Interview]
The Facebook Timeline is not a fundamental shift for businesses when it comes to marketing on the social network. The primary goal is still to build relationships and engage customers more than preach to them. The Timeline simply provides a few new tricks you can use to maximize exposure for your business and reach more users.