A German court has thrown out a Motorola Mobility patent lawsuit against Apple, breaking a recent run of courtroom successes for the company.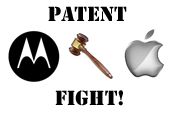 The patent enforcement action was dismissed, a spokesman for the District Court in Mannheim, Germany, said Friday.
While this ruling went in Apple's favor, the company's products are the subject of a number of other patent infringement lawsuits in Germany, brought by Motorola Mobility and also Samsung Electronics. Last week, Motorola Mobility succeeded briefly in blocking sales of Apple's mobile phones in Germany, winning an injunction to enforce an earlier patent ruling that Apple had infringed a patent essential to the GPRS (General Packet Radio Service) mobile communications standard.
Such injunctions have themselves become a bone of contention between Apple and other patent holders. Apple feels that they should not be used in relation to standards-essential patents. But injunctions are considered fair game by rival mobile OS developer Google, which could soon become the owner of Motorola Mobility if antitrust authorities approve the deal.
In Friday's judgment, the court ruled that Motorola Mobility failed to present conclusive evidence that Apple had infringed its patent, according to patent analyst Florian Mueller.
That's because, he said, Motorola Mobility relied on an argument that its European Patent 1053613, on a "method and system for generating a complex pseudonoise sequence for processing a code division multiple access signal," is essential to the UMTS (Universal Mobile Telecommunications System) standard for communications, and that Apple had necessarily infringed on it in implementing the standard in its 3G phones.
Standards Argument
Many standards bodies — including the European Telecommunications Standards Institute (ETSI), which set the UMTS standard — require that companies helping write the standard declare any relevant patents they hold and agree to license those essential to the standard on fair, reasonable and non-discriminatory terms. But because the essential nature of such patents is typically determined by the patent holder itself, Motorola Mobility's argument is somewhat circular.
Motorola Mobility failed to demonstrate that the accused Apple products actually practice the claimed invention, Mueller wrote on his FOSS Patents blog. It "didn't show any kind of actual implementation (neither hardware nor software), and arguing merely on the basis of the specifications of the standard was insufficient to win."
While demonstrating in court that a mobile phone's user interface infringes a patent may be simple enough, showing how the chips or the low-level software inside it work is a different matter. But Motorola Mobility may still try to make that case: according to Mueller, the company is asserting the same patent against Apple's online store in a lawsuit filed in district court in Dusseldorf — and that case has not yet gone to trial.
An Apple spokesman said the company was aware of the ruling but declined to comment on the case, while Motorola Mobility representatives did not return requests for comment.
Peter Sayer covers open source software, European intellectual property legislation and general technology breaking news for IDG News Service. Send comments and news tips to Peter at peter_sayer@idg.com.