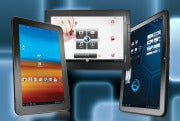 The idea of using an easy-to-tote tablet for work appeals to you. You can use it for email, note-taking, presentations, accessing the Web, and other business tasks–at least if you're not dependent on complex spreadsheets or physical input. Tablets are easier on the eyes than the tiny screens of smartphones, and they're better for your back than lugging a laptop.
If you seek basic information on what to look for in a tablet, check out PCWorld's consumer tablet buying guide. But for business purposes, read on for what you need to know about choosing a slate with the right operating system, apps, connectivity options, hardware, and more.
Operating System
When purchasing a tablet, the first thing to consider is the operating system and the app ecosystem you're buying into. At the moment, the tablet OS wars have two major players: iOS on the iPad 2 and Android on almost everything else.
Also in the mix, on a handful of tablets, is Microsoft Windows 7. Windows slates haven't been very successful for several reasons, but mostly because Windows–whether it's Windows XP, Vista, or 7–is the optimal OS for such a device. While Windows 7 wasn't designed for tablets, it does a better job than you might think of supporting tapping and swiping, given the small icons and menus it must work with. With a slate that accepts stylus input, it works better. We expect this situation to improve with the arrival of Windows 8 tablets that will have the finger-optimized Windows Phone 7-like Metro interface later this year.
In spite of the interface issues, if you're using any sort of vertical Windows application, or rely upon some of Microsoft Office's deeper features, a Windows 7 slate is your only real choice for comprehensive business use.
For general tablet use, Apple's iOS or Google's Android makes a better choice in most cases than a Windows 7 tablet. Some tablets, such as Viewsonic's ViewPad 10, dual-boot to Android and Windows 7. If you really want to enjoy access to a marketplace and all those fun apps, this couild be a better solution than a Windows 7-only tablet.
Applications
With Windows 7, you can install nearly any application available for that OS. For iOS and Android, you're more limited in your choice of business applications, but not as much as you might think.
Some tablet makers, such as Lenovo on its ThinkPad Tablet, offer VPN and even remote Windows desktop options (such as Citrix Receiver) preinstalled.
As for productivity apps, iOS has the iWork for iPad suite, which does a passable job with documents, spreadsheets, and presentations that are compatible with Microsoft Office. Docs to Go and Quickoffice are among the office suites available for both iOS and Android. All let you load, create, and save Word, Excel, and PowerPoint files, but they do have limitations. For example, they can't handle complex, macro-driven spreadsheets.
Unfortunately, online applications such as Google Docs and Docs.com are not the great solution for tablets that they could be–at least not beyond basic word processing. In practice, they're simply too keyboard- and mouse-oriented to be used efficiently on a tablet.
Keyboard, Mouse, and Stylus
Of course, dragging a keyboard and mouse around with you begs the question, "Why didn't I just buy a laptop?" But if you type a lot, you'll need a real keyboard. Using peripherals with a tablet isn't as zany an idea as you might think–after all, those tools will make certain tasks easier, and you'll still have the tablet to use as such when you're not employing them.
Windows 7 tablets all have USB ports, and most offer Bluetooth, so you can use basically any keyboard or mouse on the market. Some Android tablets have USB ports, but the iPad 2 and many Android tablets rely solely on Bluetooth for peripheral connections.
A few exceptions: Lenovo's ThinkPad Tablet and Asus's Eee Pad Transformer TF101 and Eee Pad Transformer Prime all offer a keyboard and cursor control in a case that uses the USB port or dock.
The $69 Apple Wireless Keyboard and Logitech's $70 Bluetooth Tablet Keyboard for iPad 2 and for Android (3.0+) are decent units that won't weigh you down too much. Logitech also makes a $130 folding keyboard that travels a little more compactly, and the company's $100 keyboard/case for the Samsung Galaxy (10.1 inches) is another workable solution. With Windows 7, a portable mouse is a good and necessary accessory. Navigating its non-finger-optimized interface is difficult at best without it or a stylus. Any of a host of USB (including wireless) and Bluetooth mice that work on laptops and desktops will work just fine on a Windows 7 tablet.
Digital Pens
Most tablets, like the iPad, have a capacitive touchscreen, which senses input from conductive materials, such as a living finger. These will work only with your finger, or a chunky capacitive stylus. But for serious drawing or for taking handwritten notes, you'll need a special pen-and-tablet combination.
Many of the business-focused Android and Windows slates come with active digitizer technology–which requires an electronic pen–in addition to the capacitive touchscreen. An active digitizer lets you lay your hand on the screen without interfering with the pen's input, and increases accuracy and pressure sensitivity.
N-Trig-based tablets are great for those who do a lot of handwriting or a little drawing. N-Trig's Duo Sense dual pen and touch-active digitizers are found in Android tablets with N-Trig's digitizer, such as the HTC Flyer and Jetstream and the Lenovo ThinkPad Tablet. N-Trig-based Windows slates include the Fujitsu Q550, both the HP Slate 500 and the newer Slate 2, and the Motion CL900.
Each of the Android tablets comes with special note-taking software, such as Notes on the HTC tablets, and My Script Notes Mobile on the ThinkPad. However, if you want to do more drawing, you'll want to check out Wacom-based Windows slates like the Asus EP121 or the Samsung Series 7. Wacom pens will not work on N-Trig tablets, and vice-versa.
Connectivity and Ports
Wi-Fi: All tablets have Wi-Fi. However, not all have 802.11a, the 5GHz band traditionally used by businesses. 5GHz is also used in newer dual-band consumer-grade routers and can result in a better connection, simply because there are fewer devices using it.
The iPad 2 supports 802.11a, as does the Samsung Galaxy Tab 10.1, but many others do not. This is a feature some business users might need to connect in their offices.
Broadband: An increasing number of tablets have wireless broadband. Some iPad 2 models provide 3G broadband connectivity to either AT&T or Verizon and on a month-to-month basis–no service agreement. Samsung's 4G Galaxy Tabs, Motorola's 4G LTE Droid XyBoards, and others sold by providers also offer broadband, but these models are on a two-year contract basis. Given the fast pace of change in tablets today, a two-year contract could be too long a commitment for a small business.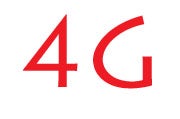 If you're buying a tablet with mobile broadband, we suggest sticking with one that has 4G, so you can get the maximum possible speeds. At this writing, you're limited to 3G on an iPad 2.
Ultimately, whether you'll need broadband is something only you can decide, but either way, expect the broadband-enabled tablet to cost more than the baseline model. It might be more flexible for your business to use a mobile hotspot such as Samsung's LTE router, instead.
Bluetooth: You probably want Bluetooth if you have any intention of using a portable keyboard and mouse with your tablet. For connecting peripherals, 2.1 is fine. Few tablets lack Bluetooth, with the exception of some value-priced, consumer-centric models such as Amazon's Kindle Fire and Barnes & Noble's Nook Tablet.
USB: Whether you need USB depends on how you want to store and transfer files, and whether you want to leverage USB peripherals (such as a mouse, gaming pad, or keyboard). Apple's iPad lacks any integrated ports, though you can add one that will communicate with digital cameras for $30. Only a handful of Android tablets, including the Lenovo ThinkPad Tablet, the Acer Iconia A500, and the Toshiba Thrive, have full-size USB ports that will power an external drive. More common are micro-USB and mini-USB ports that won't.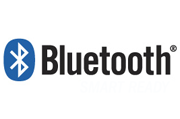 HDMI: If you intend to use your tablet as a presentation tool, and want more folks than those sitting next to you at the table to see what you're showing, you'll need video output. HDMI is by far the most common type–and even the iPad supports it via a $40 adapter.
Camera: You'll definitely want a forward-facing camera if you intend to make video calls or do videoconferencing. The lack of this feature was a major drawback of the first-generation iPad and some early Android tablets, but forward-facing cameras are now almost universal, though resolution varies. If you want to impress your clients, look for at least 1.3 megapixels that will do 720p video, although you'll need a fast connection to use the higher resolution.
Look for the same resolution in the rear-facing camera, which is handy for snapping photos and for capturing documents and business cards using a scanning or OCR app.
Storage
Many tablets lack removable storage, so capacity can be an issue. Applications, e-mail, word processing documents, spreadsheets, and presentations don't require much space. However, if you deal with lots of video, you might want to purchase a high-capacity tablet (the maximum today is 64GB, on a handful of models), or at least make sure you can expand capacity via a micro-SDHC card slot. Many Android and all Windows tablets allow you to transfer and access data directly from external storage devices such as a thumb drive or a USB hard drive.

The iPad, however, supports transferring large amounts of data directly from a PC using iTunes or from online storage services such as iCloud, Mozy, or Dropbox. However, downloading from an online storage account can be frustratingly slow on the road. Wi-Fi hard drives, such as Seagate's GoFlex Satellite Mobile Wireless Storage, are a faster option (in most cases) for the iPad.
A more critical issue is that, depending on the app and service you're using, you may not be able to do much more than view your document inside that app on your iPad. For example, if you download a Word doc, you may only be able to view it in the app, not open it in another app to edit it.
Security
Security and data encryption are major issues for many business users, and for some companies, the lack of security will eliminate many tablets from consideration.
Windows 7 has Bitlocker (Ultimate and Enterprise versions only) and numerous third-party apps that implement security; Android 3.0 ("Honeycomb") and later offers system encryption; and the iPad has encrypted everything stored on it since day one. Android 2.x does not encrypt and is still offered on many tablets–avoid those if you have data you need to protect.
Android, iOS, and Windows 7 all provide a means of establishing a VPN connection, so accessing your company network is easy as well. How many resources you can access is the issue. With Windows 7 and Android you can browse storage, but with the iPad you're limited to basic company communications, such as email and bulletin boards.
Lenovo has gone the extra yard with security considerations for its IdeaPad Tablet. Not only does it offer Cisco VPN and Good Technologies secure e-mail, it also lets you encrypt data on removable storage. It also ships with Citrix Receiver, so users can work with a remote Windows desktop under the control of IT. Your techs will love those features.
Final Advice
A tablet can meet at least some of your business needs, but it's most likely going to entail some compromise in the way you work. If you have software that requires Windows, then you need a Windows tablet–no way around it. If you don't have that constraint, then the iPad and Android tablets are more finger-friendly options.