At a Glance
Expert's Rating
Pros
Light and durable design with excellent controls.
Rear touchpad works well, permits unique gameplay.
Big, beautiful OLED screen.
Cons
Overpriced proprietary memory cards.
Middling battery life.
Onboard 0.3 megapixel cameras are terrible.
Our Verdict
When it comes to pure performance, the PlayStation Vita is the best dedicated handheld gaming console you can buy.
When the Sony PlayStation Vita arrives in North America on February 22nd, it'll face stiff competition. Mobile devices like smartphones and tablets have become powerful, cheap and ubiquitous. And with great, inexpensive games readily available on a device that you're already carrying every day, is there any reason to spend upwards of $250 on a piece of dedicated gaming hardware like the PlayStation Vita?
I didn't think so, until I spent some quality time with the PlayStation Vita. Let me tell you why it changed my mind.
Superb Design
At just over 7-inches wide and 3-inches tall, it's impossible for anyone to mistake the PlayStation Vita for anything other than a handheld gaming machine. Despite its size the device is actually surprisingly light, thanks to a reinforced plastic chassis that's difficult to bend or flex. It feels solid, and is comfortable to hold for extended play sessions. Our 3G-capable Vita ($300 at time of review) clocked in at just under 10 ounces, making it comfortable for daily carry.The $250 Wi-Fi-only model is lighter still, at 9 oz.
Despite its sleek profile and light weight you'll likely want to avoid slipping the Vita into your pocket, thanks to the twin analog thumbsticks flanking the 5-inch OLED screen. They jut out about half an inch from the front of the device. Having access to two thumbsticks for analog control (as opposed to the squat Nintendo 3DS Circle Pad, or the flat analog nub on the Sony PSP) makes it possible for Vita developers to publish 3D games with complex controls. But the hardware itself is unwieldy. Unless you purchase a protective sleeve for the Vita (sold separately) you'll want to carry the device in a purse or satchel to avoid potential damage to the thumbsticks.
The Vita sports plenty of other input options, including a directional pad, four face buttons, Start and Select buttons, and a PlayStation button that you can tap at any time to jump back to the Vita Home screen. Inside the Vita are a triple-axis accelerometer and gyroscope and a triple-axis electronic compass, along with a GPS radio (in 3G-enabled Vita units only). Along the top of the chassis you'll find left and right trigger buttons flanking volume controls on the right and the power button on the left, as well as two flimsy plastic covers in the middle that conceal a slot for your Vita cards (more on those later) and a mysterious "Accessories Terminal" for connecting peripheral devices, none of which were announced at time of publication. In addition, 3G Vita owners will find their SIM card slot nestled on the left side of the unit beneath a black plastic cover.
Rounding out the unit are a headphone/microphone jack, a "multiuse connector" port and memory card slot along the bottom of the chassis. The multiuse connector port resembles nothing so much as a malformed USB jack, and as of publication it's only use was as a port for plugging in the PlayStation Vita proprietary charger. The charger itself comes in three parts: a generic North American 2-pin power cord, a Playstation-branded USB cable with a proprietary pin configuration that matches the Vita's multiuse connector port, and an AC adapter with a USB port to unite the two. It's a bit much to carry just to keep your Vita charged, but you can use the Vita-to-USB cable to connect the device directly to your PC. From there you can transfer photos, movies, music and applications between the Vita and your PC via the PlayStation Content Manager Assistant application (more on that later) or trickle charge the Vita's battery via USB (as long as the Vita is not in active use).
But enough about ports, let's talk about the screen. The capacitive 5-inch OLED touchscreen that dominates the Vita is big, beautiful and multitouch-capable. It's bright enough that most games and movies are playable even in direct sunlight. The excellent viewing angle makes it easy to see what's going on even at extreme angles, and the glossy finish doesn't pick up fingerprints or smudge easily. With a resolution of 960-by-544 pixels it's not quite as sharp as an iPhone 4S display, but it's the best screen we've ever seen in a dedicated gaming handheld (trumping both the Nintendo 3DS and the PSP) and colorful games like Lumines and WipeOut 2048 look fantastic.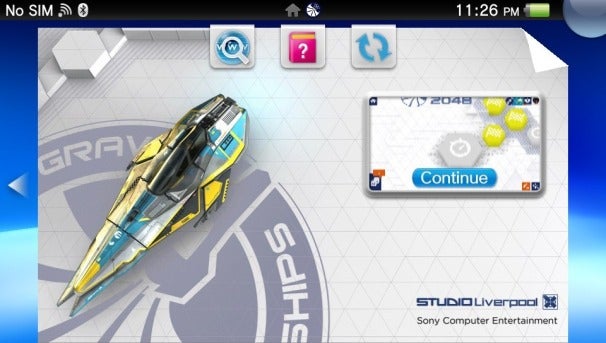 Mirroring the multitouch-capable touchscreen is a similarly-sized glossy touchpad on the back of the device. This is the first time we've seen a mobile device with a rear touchpad since the Motorola Backflip, and learning to hold the Vita comfortably without accidentally tapping the rear touchpad takes some time. Thankfully it's simple enough to feel where the Vita chassis ends and the touchscreen begins via a texture change between the rough plastic of the chassis and the smooth, glossy touchpad. How well the complimentary front and rear touch interfaces function depends on which game you're playing; as an example, while playing the twin-stick shooter Super StarDust Delta you can tap and drag your finger along the rear touchpad to place gravity wells, or tap the front touchscreen to target your missiles. If you don't like the touchscreen controls, you can always use physical buttons instead.
Video: Sony PlayStation Vita: Powerful Handheld Gaming
Obtuse Interface
When you turn on your Vita for the first time you'll need to log into the system with your Sony Entertainment Network account, or create one if this is your first Sony device. Choose carefully, because you can't switch between multiple SEN accounts without formatting the Vita's onboard memory.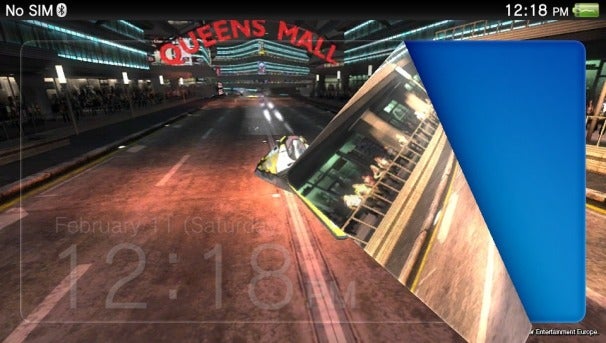 Once you've configured your system language and time zone you're presented with the lock screen, a ticking clock atop what appears to be wallpaper; tap and peel the lock screen away to access the Vita home screen. The Vita dispenses with the venerable Sony XrossMediaBar (XMB) interface that graces the PS3, PSP and select Sony HDTVs in favor of a new touch-based interface. It pins up to ten application icons to a series of pages that you can scroll between by swiping your finger up or down the screen. Tapping an icon will open that application's LiveArea, a sort of middle ground between the Vita home screen and the actual application where you can accomplish application-related tasks like adjusting settings, reading the digital manual or checking for software updates. You can have up to six LiveAreas running simultaneously, though Sony may increase that limit in a future firmware update.
While you're likely to spend the lion's share of your time with the Vita playing games (which can be either downloaded from the PlayStation Network Store or installed directly from a Vita cart) the device also offers a robust suite of applications. For the full rundown of system software check out our guide to what you need to know about the PlayStation Vita. In brief, there are built-in apps for sharing game activity or chatting with friends, watching movies, playing music and viewing photos, as well as a Content Manager application for transferring files back and forth between the Vita and your PC.
To transfer files you'll need to install the Content Manager Assistant software on your PC. It seems a little silly to require Vita owners to use proprietary content management software instead of just treating the Vita as an external USB drive, but the Content Manager Assistant software is simple to use and may help stem Vita software piracy.
Of course to actually store media on your Vita (which only has 512 MB of onboard RAM for running system software) you'll need to invest in a proprietary PlayStation Vita memory card, which (at the time of this review) are ridiculously expensive. Our Vita review unit came with a 16 GB memory card, which currently retails for $59.99. If you're strapped for cash you could pay as little as $20 for a 4 GB Vita memory card, but if you want enough space to store more than a few songs or saved games (some Vita game cards allow you to save data directly to the card, but not all) you could spend as much as $100 for a 32 GB Vita memory card.
These prices are tantamount to highway robbery, especially given that a standard 32 GB SanDisk SDHC memory card costs roughly $30. Sony's decision to design the Vita to use a proprietary format of external memory and then charge inflated prices for Vita memory cards is a blatant bit of profiteering that directly harms the consumer, besmirching an otherwise laudable piece of gaming hardware.
There's also a built-in web browser that functions reasonably well. It utilizes touch for navigation and onscreen keyboards for text entry, and resembles an oversized Android browser. The Vita browser supports neither HTML5 nor Flash as of this review.
Terrible Cameras
The PlayStation Vita has a pair of front and rear-facing 0.3 MP VGA cameras, and they're both terrible. During testing the Vita regularly captured photos that appeared blurry and dim with poor contrast between light and dark areas. The Vita 1.6 firmware update added a video recording feature to the Camera app, but the quality of video captured using the Vita's cameras is equitably poor. These cameras work well enough for playing the occasional augmented-reality game, but for snapping photographs suitable for sharing you're better off using a dedicated camera, or your smartphone.
Fantastic Performance
The PlayStation Vita packs a quad-core PowerVR Series 5XT SGX543MP4+ GPU that's similar (though superior) to the dual-core SGX543MP2 GPU which powers the Apple iPhone 4S and iPad 2. The Vita's GPU does a fantastic job of rendering movies and games without a hitch; during testing we played several graphically-demanding Vita games (including Uncharted: Golden Abyss, Lumines: Electronic Symphony, Super StarDust Delta and Ultimate Marvel vs. Capcom 3) and they all looked fantastic, with nary a dropped frame or graphical glitch to speak of.
The Vita also boasts respectable battery life, and during testing we were able to eke out just under five hours of fun playing games, watching movies and listening to music at maximum brightness and maximum volume before our Vita review unit ran out of juice. Thankfully it only takes about an hour and a half to completely charge the battery via the AC adapter.
While our Vita review unit included a 3G radio, we were unable to assess the performance of the AT&T 3G on Vita units at the time of review without a compatible 3G SIM card. Once we have thoroughly tested the 3G functionality of the Vita we will update the review accordingly.
All told, the PlayStation Vita is an excellent handheld gaming console that's worth paying for if you demand more from your mobile gaming experience than smartphone or tablet games can provide. You'll have to make some sacrifices in order to play with this kind of power, but if you're willing to accommodate the Vita's size and Sony's draconian memory card pricing scheme, you'll be rewarded with one of the most powerful handheld gaming devices ever made.