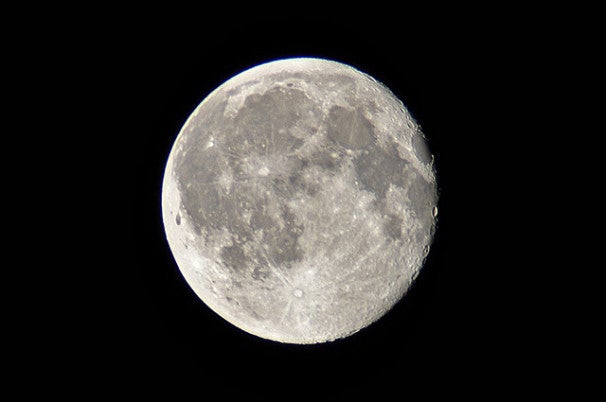 Back on February 3, NASA released a memo saying that it is determined to move forward with a "human-tended waypoint" around the far side of the moon, according to MSNBC. The base's location would be in a pocket of space where the combined gravity pulling from two large bodies in space in different directions causes in essence a "parking spot", called a libration or lagrangian point.
This point, just beyond the Moon, is technically known as the "Earth-Moon Libration Point 2" or EML-2, and it is the point of interest for NASA's current study. It would provide scientists and astronauts a jumping point towards further exploration into areas such as the Moon, Mars, and the moons surrounding the red planet. Such a base could also be pivotal in telerobotic science on the moon's far side where some of the oldest-known impact craters exist, in addition to building a place to service and build satellites and telescopes and test advancements in radiation shielding for long-term space flight.
Also high on the list of awesome things to experiment with is the possibility of jumping from the base to the surface of the moon to test building large, permanent structures using hardened regolith, which means literally "a blanket of rocks," which litter the surface of the Moon. Radiation-shielded habitats as well as solar arrays and the like are the tip of the iceberg if science can take organic rock and debris on the surface of another planet and form it into habitable expanses.
NASA is really pushing for international and academic partnerships for this, which has the big advantage of private sector and institutional research and development technology as well as the potential for capital where it's needed in the face of government cuts to critical programs and services.
President Obama just released the 2013 budget for NASA, and with almost 20 percent in cuts slated to go into effect, NASA can use all of the help it can get. While any program to explore or build a base-station on the far side of the moon isn't explicitly mentioned in the cuts (like the joint Mars missions have been), we'll be keeping our fingers crossed that this program makes it and we'll see far-moon bases in our lifetimes.
NASA's most recent astronaut class application deadline was January 27th, but if you didn't manage to apply in time, don't worry. It looks like deep space is in our future, and the future is deep space exploration.
[MSNBC / Photo: dingopup on Flickr (CC BY-SA 2.0)]
Jason's love of space exploration extends to writing, reading and watching whatever he can about it. The idea of space rations and the cold void of uncaring deep space will more than likely keep him firmly planted on this world. You can follow him on Twitter or Google Plus.
Like this? You might also enjoy…
Get more GeekTech: Twitter – Facebook – RSS | Tip us off