A flash drive is one of the single most useful tools a person can own. With it you can back up critical data, transport large files, rescue a malware-infested PC, and even run an entire operating system.
Regarding this last option, awhile back I explained how to put Windows 8 on a flash drive. (It works with Windows 7, too.) Today, let's talk about putting Linux on a flash drive.
Why would you want to do that? Two reasons: to see how the other half lives, so to speak, and to create a rescue tool that can work around nearly any Windows-related disaster.
For example, I recently spent days troubleshooting a relative's malware-infested, effectively non-operational laptop. She wasn't concerned about getting the system working again, but she desperately wanted to retrieve her business documents, personal photos, and the like. (I did not, you'll be glad to know, take the opportunity to scold her about making backups. I waited until later.)
Just because Windows is hosed doesn't mean you can't access the files on your hard drive. By booting Linux from a flash drive, you get a full-blown operating system, one that can read the main drive and, usually, copy its contents somewhere safe (like the cloud, an external hard drive, or even a network drive).
Okay, but you don't have a master's degree in programming, so how are you supposed to create this mythical Linux boot drive? It's easier than you might think thanks to an open-source utility called UNetbootin.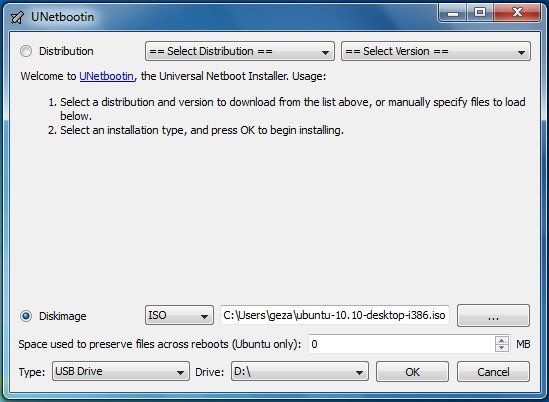 The beauty of this tool is that it does everything for you (except supply the flash drive–I recommend something like the Kingston DataTraveler 108 8GB drive, which Newegg sells for the amazingly low price of $7.99 shipped).
Just download and run the program, then choose a Linux distribution (i.e. a version of Linux) or, if you already have one, an ISO file. I think most people will opt for the former, at which point UNetbootin downloads Linux for you, then copies it to your flash drive (and makes the drive bootable).
(If you're new to Linux, I recommend choosing Ubuntu–though readers may have other ideas as to which distribution is the most user-friendly.)
Reboot with your drive still inserted and presto: Linux should load. (You may need to monkey with your BIOS or boot settings so that the flash drive is at the top of the order.)
Keep in mind that this won't overwrite anything on your hard drive; the OS runs exclusively from the flash drive. When you're done, you can just shut down, remove the drive, then boot back into Windows normally.
But I recommend familiarizing yourself with that Linux environment, just so you're prepared if and when you need to use it for rescue purposes. Plus, it's kind of fun!
Contributing Editor Rick Broidawrites about business and consumer technology. Ask for help with your PC hassles at hasslefree@pcworld.com, or try the treasure trove of helpful folks in the PC World Community Forums.Sign up to have theHassle-Free PC newslettere-mailed to you each week.