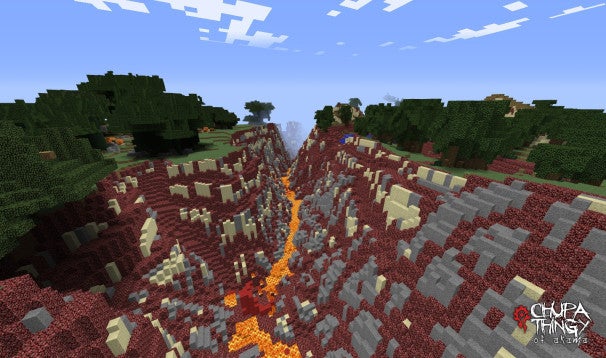 Minecraft's open-ended creation has made it possible to recreate places and objects inside its virtual world. We've seen Minecraft renditions of Hyrule, the Death Star trench run from Star Wars, and even the first level of Super Mario Land. Now, one gamer used the virtual world of Minecraft to recreate Azeroth, the titular world in the massively popular World of Warcraft.
Ramsesakama on the MMO-Champion forums set out to procedurally create the WoW continent of Kalimdor (one of the two original continents that WoW launched with) at a 1-to-1 scale.
The project ran into a few problems, including Minecraft's built-in 128-block height limit that chopped off the top of the world (Kalimdor is much higher than the 128 meters that Minecraft allows) and resolution issues )since Wow has details that are smaller than Minecraft's meter cubed blocks). Still, as you can see, the final results are pretty impressive. Check out the original forum thread for more photos.
Ramsesakama used procedural generation to make Kalimdor automatically, but some other WoW related projects take a more manual approach. The massive group WoW recreation project, for example, looks to recreate not just Kalimdor but all of WoW with community volunteers.
[MMO-Champion via BoingBoing]
Like this? You might also enjoy…
Get more GeekTech: Twitter – Facebook – RSS | Tip us off