At a Glance
Expert's Rating
Pros
Inexpensive phone without a binding contract
Unlimited music downloads and texting
Cons
Resistive screen makes typing nearly impossible
Poor camera and video quality
Our Verdict
Although the ZTE Chorus has its shortcomings, it isn't a bad fit if you're on a tight budget and primarily want to listen to music.
The ZTE Chorus for Cricket is a handsome, compact phone with a diverse, built-in music library courtesy of Cricket's MuveMusic software. Although reasonably priced ($50 without a contract plus $45 per month for a music plan, as of February 13, 2012), this prepaid phone falls short due to poor touchscreen sensitivity and a low-end display.
Design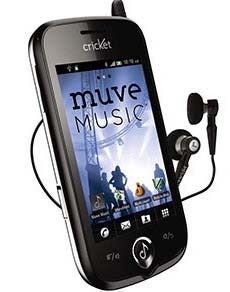 When you pick up the ZTE Chorus, you'll immediately notice its slick feel–as well as its less-than-sturdy construction. The glossy piano-black cover is nice to the touch, and attractive in appearance. The rounded edges convey a soft look, and allow the phone to fit more comfortably in the palm. Measuring 4.40 by 2.20 by 0.60 inches, the Chorus is a little squat for my liking, and feels bulky in my pocket. Weighing 3.7 ounces, it has a light plastic frame, which is a bit troubling: The phone seems like it would break easily if it were to fall. The battery backplate comes off in a snap.
The 3.2-inch WQVGA resistive touchscreen display is the phone's biggest weakness. The screen hardly responds to touch unless you press firmly and precisely (with your fingernail); typing is difficult to the point that texting or browsing becomes a chore. In addition, the screen has a low resolution of 240 by 400 pixels.
Below the display is a touch-sensitive volume control, along with a home/back key. Annoyingly, the Chorus requires you to push the home/back key repeatedly to switch from the MuveMusic software (see below) to the home screen.
The MuveMusic button, which is located between the volume and home/back buttons, is a useful control for quickly accessing the MuveMusic software. A physical key, the MuveMusic button bears a music-note emblem.
MuveMusic
Music is the Chorus's strongest feature. The MuveMusic software offers a huge selection of songs to download–millions of tunes, ranging from the latest hits to classics to more obscure songs. You can download as many songs as you wish with your monthly music data plan. As for audio quality, the sound is not as clear as what you might hear on a PC. Testing the phone's external speakers, I listened to Lana Del Rey's "Video Games" and encountered some white noise; the effect became more prominent when I put headphones on. I liked having the option of turning on SRS (Sound Retrieval System) in Standard Mode, which enhanced Del Rey's voice and the background music.
Android…Or Is It?
The interface for the Chorus is easy to navigate; as this is a budget phone, however, it uses a generic Linux OS in place of Android. I found the sparseness of the three-by-four apps menu unimpressive, and the icons lacked detail and sophisticated shading.
Since the Chorus isn't an Android device, it doesn't provide access to the usual suite of Google apps. You do get Cricket's Storefront for apps, but they lack the variety that the Android Market offers. If you want to try Cricket but you absolutely need the Market, you should purchase an actual smartphone–such as the ZTE Score–and the MuveMusic plan for Android phones, which costs $55 a month.
Camera and Video
Since the Chorus is equipped with only a 2-megapixel camera and camcorder, I wasn't expecting world-class image quality. After taking a shot on Bryant Street in San Francisco, I noticed a bluish tint throughout the photo. Images I took indoors lacked sharpness.
The camcorder recorded with some lag, and quick movements produced video with jellylike aftereffects.
Performance
Call quality over Cricket's network was rather uneven. Sometimes the calls I made to friends' cell phones and landlines went through fine. I could hear voices well, with the exception of a low static sound, which resulted in some fuzziness. In one instance, the static was so intense that I needed to stop the call. Web browsing was also a bit irregular, because I couldn't connect at times. When I did, Cricket's 3G network speed was decent, loading the PCWorld.com homepage in 14 seconds. Battery life, however, was poor: The Chorus survived little more than 4 hours of continuous music play.
Conclusion
Although the ZTE Chorus has a low-quality camera and camcorder, a cheap display, and a resistive touchscreen, this phone isn't a bad fit if you're on a tight budget and you primarily want to listen to music on the go. If you do decide to use the Chorus for communication purposes, you get 1000 minutes each month and unlimited texting (but you may have to buy a small stylus just to type comfortably). And if the Chorus doesn't work out in the end, you're not obliged to stay with it since it is a prepaid phone.