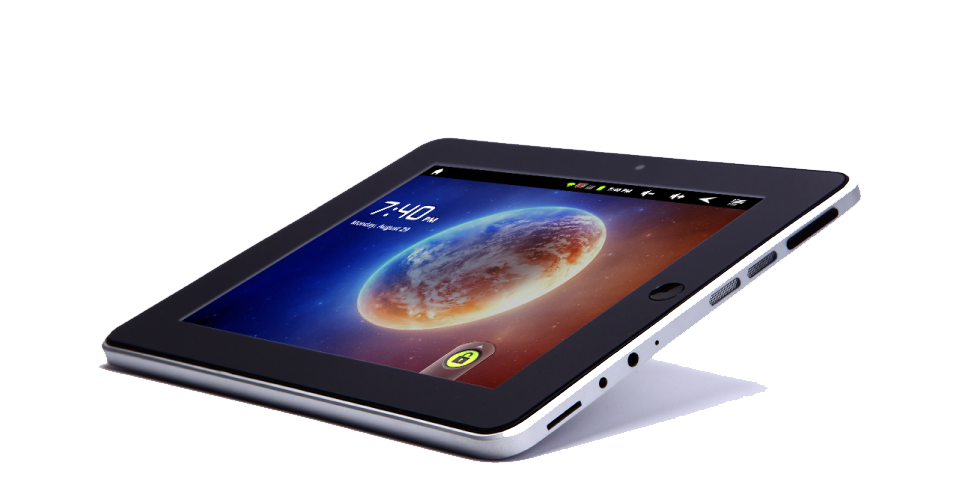 Chinon USA Monday announced two low-cost Android tablets targeted at cost-conscious buyers. The 7-inch Chinon Swift-7 costs $160, while the 9.7-inch Chinon Swift-10 is $280.
Both tablets run Android 2.3–a disappointing choice what with new Android slates like the Samsung Galaxy Tab 2.0 featuring version 4.0, also known as Ice Cream Sandwich.
The smaller Swift-7 is aggressively priced. In fact, it's $40 less than Amazon's popular Kindle Fire.
How do they compare? Both tablets have 7-inch screens, but the Kindle Fire's 1024 x 600 resolution is higher than the Swift-7's 800 x 600.
Unlike the Fire–but like Apple's iPad–both Chinon displays (7- and 9.7-inch) have a 4:3 aspect ratio.
Expandable Storage
The Kindle Fire has more storage, too: 8GB (with 6GB available for user content) versus the Swift'-7's 4GB. That's enough room, Chinon says, for about 2,000 songs, 40,000 photos, or four full-length movies.
You can add storage to the Swift-7 or Swift-10 via a Micro SD memory card slot. Battery life for both Swift tablets is approximately five hours.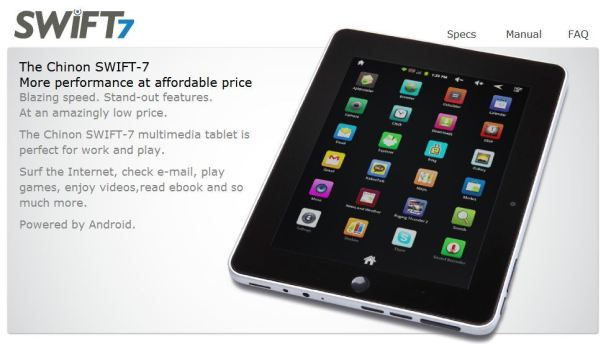 Like the Kindle Fire, the Swift-7 supports 802.11n Wi-Fi. Unlike the Fire, the Swift-7 has a front-facing camera with a not-so-great 640 x 480 resolution. (Given the tablet's $160 price, it might be too greedy to expect anything better.)
The Swift-10 has two cameras–front and rear–each 2 megapixels. Like the iPad 2, its 9.7-inch IPS display has a 1024 x 768 resolution.
Chinon USA is clearly aiming for the bargain end of the burgeoning tablet market. The Swift specs suggest a so-so slate experience–which may be good enough for users who simply want to check email, watch the occasional YouTube video, and, yes, play Angry Birds.
Then again, the Kindle Fire and Barnes & Noble Nook may very well offer a better user experience for a mere $40 more.
In the 10-inch market, the Swift-10 faces stiff competition from a host of Android challengers, many of which are priced only slightly higher. For instance, the Wi-Fi version of the aforementioned Galaxy Tab 2, which runs Android 4.0, will cost around $350 when it ships in March.
And don't forget about the iPad 2, which Apple may continue to sell at a reduced price, once the iPad 3 (allegedly) arrives next month.
Contact Jeff Bertolucci at Today@PCWorld, Twitter (@jbertolucci) or jbertolucci.blogspot.com.
When you purchase through links in our articles, we may earn a small commission. This doesn't affect our editorial independence.