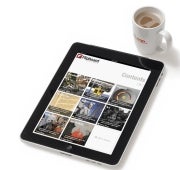 Google will soon launch a social news magazine for iPads and Android tablets called Propeller, according to reports. The app would compete with the popular Flipboard app on the iPad, which Google tried to buy but its offer was refused.
So, can Google become the king of social tablet magazines?
Blogger Robert Scoble first reported on Google's social news magazine plans, which his source described as "mind-blowing good". All Things D's Kara Swisher followed up, saying the app will be dubbed Propeller, but there's no word on when the app would be launched or any specific details over how it would work.
Background
The social news magazine for tablets is getting increasingly crowded, as media consumers change their reading habits. Besides Pulse and News.me, AOL launched its own social new app called Editions earlier this year, Yahoo has Livestand, while CNN bought Zite last month. These apps pull content shared by friends and followers on Facebook and Twitter (and other services) based on reader's interests and format them for the iPad.
Out of all these apps, the one that stands out the most is Flipboard, available exclusively for the iPad (iPhone version in the works), which was named by Apple as App of the Year. The app also picked up several Webby and Webby People's Voice Awards for tablet news and social apps.
Google this month killed its Fast Flip experiment in Google News, which took screenshots of articles and displayed them in a carousel for easier browsing between stories from multiple sources. Fast Flip has been running for two years and was sharing advertising revenues with publishers.
"Fast Flip experiment has fueled a new approach to faster, richer content display on the web. This approach will live on in our other display and delivery tools," Google wrote in a blog post on the closure of the service. Perhaps Propeller will be a reincarnation of Fast Flip for tablets.
Follow Daniel Ionescu and Today @ PCWorld on Twitter