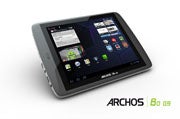 Are you longing to get your hands on a tablet, but can't stomach the $500 pricing for devices such as the iPad, Motorola Xoom, BlackBerry PlayBook, or Samsung Galaxy Tab 10.1? Then you might be interested in Archos' 80 G9 Android Honeycomb tablet for $300.
It comes with a dual-core processor and 8-inch display and will be available on September 20. Archos' tablet doesn't reach the TouchPad's fire-sale pricing, but it's still cheaper than many of the more high-profile tablets sitting on store shelves right now.
Following the base model launch, Archos will be launching more versions of the 80 G9 in October with beefed-up specs, as well as a 10-inch model called the Archos 101 G9, arriving around the same time. Archos' G9 tablets come with the usual array of Google apps including Gmail, Google Maps, Google Talk, YouTube, and access to the Android Market.
Archos has introduced other cheap Android tablets into the market. The new G9 tablet line-up follows Archos' $300 101 Internet Tablet and the $199 Archos 7 tablet.
PC World didn't review the 101, but gave the Archos 7, 2.5 starts out of 5, criticizing it for a shoddy touchscreen and a failure to provide access to the Android Market, opting for its own creation instead, the AppsLib market. The 101 Internet Tablet also offered access to the AppsLib market.
It's not clear how good the touchscreen for the G9s will be, but at least Archos got its tablets certified by Google this time around, which gives G9 users access to the Android Market.
Here's a breakdown of what's heading your way.
Archos 80 G9 Base Model
The Archos 80 G9 base model available September 20 features Google's tablet-specific Android 3.2 (Honeycomb) operating system, 8 GB flash storage, and a 1GHz dual-core processor. It's not clear what the other specs for the base model G9 will be, but presumably they will be similar to the models arriving in October. I have contacted an Archos representative to verify the base model's specs and will update this post should the company reply.
The base model will be available from Archos.com on September 20 and on September 30 at a variety of retailers including HH Gregg, Amazon, Newegg, Tiger Direct, Brandsmart, and Electronic Express.
The 8GB 80 G9 is priced at $300–$20 more than the promised $280 in June when Archos first announced the G9 series.
October Models
If 8GB storage won't fit your needs, Archos in October will launch a 16GB flash storage version of the 80 G9 for $329, and a model with a 250GB hard disk drive for $369. Both models feature a 1.5 GHz dual-core Cortex A9 inside a Texas Instruments OMAP 4 system-on-chip (SoC).
The display is an 8-inch touchscreen with 1024-by-768 pixel resolution, and the tablets also have a front-facing camera with 720p video capture (no word on megapixels). For ports and connectivity, you get an HDMI output, two USB 2.0 ports, a microSD slot (SDHC compatible) supporting up to 16GB, 802.11 b/g/n Wi-Fi, and Bluetooth 2.1 + EDR.
Archos promises 10 hours of battery life for Internet browsing, but as always, it's best to wait on third-party tests before accepting that claim as fact.
The flash storage version of the 80 G9 weighs about one pound and measures 0.46-inches deep. The HDD version is slightly larger measuring 0.58-inches deep and weighing close to 1.4 pounds. Specific launch dates were not announced.
Archos 101 G9
Many of the basic specs found in the 80 G9 are also in the 101 G9 including ports, the 1.5 GHz processor, front-facing camera specs, and connectivity. The biggest difference with the 101 is the 10.1-inch screen size with 1280-by-800 resolution.
The 101 G9 will be available with 16GB of flash storage for $399 or a 250GB HDD for $469. The flash storage version is half-an-inch thick and weighs just over 1.4 pounds; the HDD model has a 0.61-inch thickness and tips the scales at 1.66 pounds. The 101 will also be available in October, but a specific launch date was not announced.
Both 80 G9 and the 101 G9 feature a similar body design.
Connect with Ian Paul (@ianpaul ) and Today@PCWorld on Twitter for the latest tech news and analysis.