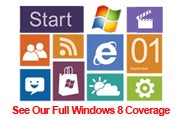 If Windows 8 works successfully on ARM-processor-equipped systems, expect to see thin, light, and innovative devices coming our way. Such devices would include ultrathin laptops with impressive battery life, and superlight, large-screen tablets.
ARM-based 32-bit processors are relatively simple in design compared with Intel's chips. This simplicity means that they consume less power, which makes them perfect for use in devices designed to maximize battery life–such as phones, tablets, and, soon, laptops. The core of the processor can be licensed by chipmakers, who, in turn, can package it into a system-on-chip processor that puts all of the components into a single, integrated-circuit chip. The ARM core isn't new, but it has traditionally been used with embedded systems or with portable devices that don't run Microsoft Windows.
That's about to change–and when it does, it could change the face of computing, as evidenced by the ARM prototypes demonstrated at BUILD.
The beauty of these system-on-chip architectures is that they can be placed in very tight spaces. This obviously impacts case designs–I saw one impressive, not-publicly-shown tablet prototype at this week's BUILD conference that was superthin and supersturdy and that weighed less than a pound and had a 9-inch screen.
Saving space is just one of the benefits of ARM. Another benefit is low power consumption.
"We're seeing no restriction on form factor for the ARM devices," says Steve Horton, director of software and product management for Qualcomm. "Power is going to give you multiple differentiators–multiple days of use, or the ability to do a device that's superthin, or superlight."
The potential power savings of ARM is why chip makers say there is even talk of putting ARM chips into clamshell designs that mimic laptops. ARM is clearly destined for more than just phones and tablets, areas in which ARM already dominates in the form of Qualcomm and Nvidia chips.
But if Windows 8 works on ARM-processor-equipped systems, consumers could see clamshell-style "laptops" with up to 15 hours of battery life.
Of course, once clamshell tablets come out, their keyboards will make them harder to distinguish from ultraportable laptops. Some will run on x86 chips, like those from Intel and AMD, and some ARM-based systems will run Windows 8–but those may not handle your existing software. We're not sure yet how that will be handled, as Microsoft didn't offer much information at this week's event.
If you're wondering whether you'll be able to use existing Windows apps on ARM systems, I did ask–but all of the manufacturers I spoke with glossed over the issue.
"We have thought about it. We're not super concerned," says Qualcomm's Horton. "We think there's a lot of good things coming. The end goal is for the experience to be the same, fundamentally, from a Windows OS standpoint–and it should be the same thing."
Microsoft was also vague about support for legacy apps on ARM, but the company has already demonstrated a version of Office that runs in the new Metro-style Windows interface, as opposed to the traditional desktop.
Windows on ARM: What It Takes
I asked about how the process of adapting ARM for Windows is going, and the Nvidia, Qualcomm, and Texas Instruments execs I spoke with indicated that things are going smoothly. All noted that they needed to add support for DirectX graphics (if they didn't already support it), but beyond that, the process of preparing ARM for Windows is largely about optimizing code for working with the system-on-chip architecture.
"The work has been going on for more than a year now," says Deepu Talla, general manager of mobile computing and wireless at Texas Instruments. "The only thing I would say we needed to work on was our graphics speeds. We've needed to make changes to our graphics engine to support DirectX. Silicon-wise that's the only difference. And we've made other optimizations in software."
Many of the capabilities of ARM, a chip that dominates smartphones and tablets today, will allow Windows 8 to gain smartphone-like functionality.
For example, Horton points to the "Connected On" demo at BUILD this week. Connected On is a new power state that sends a system into a powered-down state without hibernating, so you can come out of it immediately. In this state, apps are suspended, but can still refresh content in the background without requiring much power. This state of suspension will even work with Qualcomm's 4G technology, a boon considering how 4G can guzzle battery life.
There is one design catch that will have a clear impact on the shape of the devices we see: Microsoft is asking hardware manufacturers to stick with a 16:9 aspect ratio, because that's what the Metro interface (two-apps-on-screen) is optimized for.
In the end, TI's Talla notes that the company's focus is mobile computing.
"It's about developing this all-day computing experience," he says. The other ARM chipmakers agree with Talla–all have a goal of 12- to 15-hour battery life on a system, whether it's a clamshell or a tablet design.
If they manage this, we'll all be able to while away our days at the local cafe, nursing a latte from sunup to sundown–and maybe even beyond. Not bad.