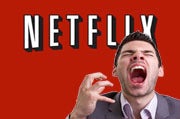 Hell hath no fury like a consumer scorned–a fact Netflix is discovering since it restructured its pricing in July. One million consumers have bailed since the restructure, and the company's stock price is falling precipitously.
Netflix released its membership projections for the third quarter, which wraps up at the end of September, on Thursday. According to the numbers, Netflix will be down one million subscribers–24 million, down from 25 million, which is a significant drop of four percent. Most of the losses are members with DVD-only accounts (three million to 2.2 million), but a whopping 200,000 streaming-only members also bolted.
News of the member losses reflects Netflix's stock. When Netflix first announced the restructure in July, its stock was worth almost $300/share. Today, it's selling for less than $160.
Despite the losses, Netflix is standing by its decision. "Despite the guidance revision, we remain convinced that the splitting of our services was the right long-term strategic choice," the company said in a statement [pdf]. "We know our decision to split our services has upset many of our subscribers, which we don't take lightly, but we believe this split will help us make our services better for subscribers and shareholders for years to come."
While everyone expected some Netflix members to leave once the price increases took effect, the magnitude of the losses reveals an unsettling disconnect between the company's management and its customers. Netflix's management thought the price hike would only affect "hybrid" users–users who use both Netflix's DVD-rental service and its streaming-video service.
In fact, hybrid users appear to be remaining steady at 12 million subscribers. It was the DVD- and streaming-only areas that took the biggest hits. This kind of miscalculation puts into question the company's ability to forecast its future health.
Money may not be the only reason for defectors–choice may have also played a role. By forcing many of its members to choose between streaming and DVD services, Netflix limited the choices, and less choice never sells well. Plus, Starz recently decided not to renew its partnership with the service, giving consumers even less choice.
Add the problem of fleeing members to Netflix's other issues–rapidly accelerating cost of content, broadband provider dissatisfaction, and competition from companies with substantial resources (such as Amazon and Apple), and you might wonder if Netflix picked the best time to piss off its subscriber base.
Follow freelance technology writer John P. Mello Jr. and Today@PCWorld on Twitter.
In Video: Netflix Says Sorry, Then Annoys Customers Again with Qwikster