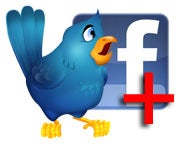 Facebook is quickly pushing out a selection of features borrowed from competing social networks Twitter and Google+. In the past week, Facebook introduced smart friend lists, akin to Circles on Google+; a subscribe feature which allows you to have Twitter-style followers on your profile; and is expected to soon allow its users to update their Twitter feeds via their Facebook accounts.
Facebook has over 750 million users and is faced with increased competition from Twitter, whose user base spans some 100 million users, and Google+, which is estimated at around 25 million users. But by adding features characteristic to its competitors, Facebook is at risk of confusing some its users.
The first example is the smart lists feature: Facebook now automatically sorts lists for your close friends, family members, co-workers, and people around you. Google+ uses the metaphor of circles for this, but the selection is manual. The Facebook feature rightly makes it easier for those with a large number of friends to keep tabs on what they are sharing with various groups, but for those who just want to keep in touch with a small number of friends, smart groups can be a hassle.
Facebook is also making its pages feature obsolete via the new Subscribe button feature it introduced. Users can enable anyone on Facebook to follow their public posts by subscribing to their profile, akin to followers on Twitter. So users who have built a separate Facebook page for their public persona won't need it anymore, allowing people to subscribe to their main public profile instead.
Profile subscriptions eliminate the need to update two separate Facebook identities, but the downside to this is that your friends will be subjected to all the updates you post for your subscribers, as well as your private network posts.
Update Twitter From Facebook Coming Soon
Another upcoming new feature, the ability to do Twitter status updates from Facebook, aims to make Facebook your main social networking account. People with accounts on both Facebook and Twitter have been able to update them both simultaneously for a long time–but only from Twitter to Facebook.
Although it sounds practical, the new feature could soon become annoying for your Facebook friends and Twitter followers: Longer posts will automatically be shortened for Twitter's 140-character limit, while your friends who follow you on both social networks will see their timelines populated with duplicate cross-posts.
There are no indications Facebook is giving its users time to absorb the new features. The social network is now reportedly looking to integrate music and videos, add Instagram-like photo filters, and try to conquer the mobile landscape with apps–all expected to be unveiled later this week at F8, Facebook's developer conference.
Follow Daniel Ionescu and Today @ PCWorld on Twitter