At a Glance
Expert's Rating
Pros
Superb display with two types of touch interfaces
Excellent keyboard and pointing devices
Cons
Price can ramp up quickly
It's Hulk Hogan huge
Our Verdict
When you need a mobile but full-featured workstation, the M6600 will get the job done–but it's massive and pricey.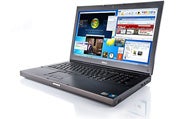 Workstations are a different beast than your typical business laptop, even though modern workstations look and behave much as PCs do. While the era of the workstation with custom, proprietary processing and graphics hardware is behind us, the Dell Precision M6600 is one of the new breed of mobile workstations; these systems go through the rigorous software and driver qualifications necessary to sell to the professional graphics or engineering markets.
The level of performance you get in mobile workstations is impressive. I'm not just talking about CPU performance, though the M6600 acquits itself well. I'm also including its other touches, such as the 17.3-inch RGB LED-backlit IPS panel with its impressive viewing angle and color fidelity. The display supports both capacitive and pen-based touch, as well. The pen interface is useful in some workstation-class applications, and the pen is pressure-sensitive, allowing for creative effects in Adobe Illustrator and other programs.
The display is excellent with photographic or video material. The M6600 we tested shipped with an Nvidia Quadro 4000M mobile workstation-class GPU, which handles high-definition video well. Upscaled DVD content was a little soft and noisy, however. This is not a gaming system, but you'll be able to play games with reasonable frame rates if you dial down the detail settings a bit. For example, in our tests, Dirt 3 set to the High preset ran at 53 frames per second while Warhammer 40,000: Dawn of War Retribution ran at 52 frames per second at its Ultra setting.
Audio quality for music is pretty good, if a little on the bright side. Bass is lacking, of course, but it's pleasing enough and loud enough that you'll be willing to use the speakers when no one else might be annoyed.
We also ran the Cinebench 11.5 benchmark, which tests performance using Maxon's Cinema4D 3D rendering engine. The M6600 managed a 5.80 CPU score, placing higher than a Core i7-960 desktop CPU. On the OpenGL test, it hit almost 60 frames per second. We also loaded up Adobe Master Collection 5.5 and checked out Photoshop, Premiere Pro, and Illustrator. We didn't conduct performance tests with those programs, but subjectively the system was responsive even under load. Having a pair of solid-state drives and 8GB of RAM certainly helps. The pen-based interface worked well, too.
The M6600 scored a very high 152 on WorldBench 6, a result that's about par for a quad-core Intel Core i7-2920XM CPU. The battery lasted a solid 4 hours, 22 minutes in our run-down tests, thanks to the Intel Sandy Bridge CPU as well as to Nvidia's Optimus technology, which allows the system to run most of the battery tests using only the integrated Intel HD Graphics.
Both the keyboard and the pointing devices are excellent. The laptop boasts a touchpad and a pointing stick, with a trio of mouse buttons supporting each. Three mouse buttons are necessary for a workstation, since many professional apps will make use of all of them. The keyboard has an excellent feel, offering just the right amount of tactile feedback and requiring low-pressure key presses. The layout is one of the most usable I've seen.
The M6600 also has plenty of ports. Five USB ports are built in; two on the left side are USB 3.0 ports, and one on the rear is a combo eSATA/USB 2.0 connector. You get lots of options for monitor connections as well, including VGA, HDMI, and DisplayPort.
In addition to the pair of 256GB solid-state drives, Dell includes a slot-load DVD-RW drive, though a system of this class and expense should sport a Blu-ray burner instead. Standard networking choices are limited to 802.11n and gigabit ethernet, but Dell does offer Bluetooth and broadband-wireless options, if you need them.
All this power and usability come at a cost, in weight and in dollars. This particular M6600 configuration will set you back over $5700 (as of September 19, 2011). And you'll want a comfortable bag to carry it in: Sans the power brick, the M6600 weighs 9 pounds, 3 ounces. With the large, flat, monolithic power brick, the whole affair weighs 11.25 pounds.
What you get for that cost and bulk is a solid workstation-class system that should run your professional applications with aplomb. The addition of capacitive touch is useful when you're presenting work to clients or staff, while the pen touch enhances your creative efforts. If $5700 is too rich for your blood, you can opt for traditional rotating hard drives, a lesser GPU, and even a lower-performance CPU, though such changes won't reduce the weight and bulk. When you pull the M6600 out of your bag, your clients will know you're serious about your work.