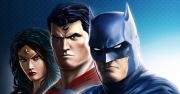 DC Comics' online multiplayer game, DC Universe ($50), will be available for free next month as part of a price restructuring–and there's no catch. The free version of the game will be available to play on PC and PlayStation 3.
Yes, free access with no catch. "There is none," Lorin Jameson, Sony Online Entertainment's executive director of development, writes in a company blog. "The entire game will be open for you to play for free."
"We have gotten a lot of feedback from gamers asking for an opportunity to play without a subscription requirement," Jameson explained. "So, that got us thinking about how to offer access to the game in a way that allows gamers to play their way."
"That's why we've created three levels of access to the game," Jameson adds.
All three versions of the online offering give gamers access to open world game play, missions, general game updates, and fixes to the game.
In the free edition of the MMO, gamers can create two characters and join a league. They also have access to current gameplay, raids, and alerts. Free users can always expand their level of play by purchasing game packs, character slots, and powers in the game store.
Premium and "Legendary" players get more benefits. To get Premium access, all a gamer needs to do is spend at least $5 in the game store and they have Premium access for life. Premium access includes a larger inventory, more character and bank slots, and more free Vault tickets.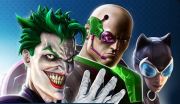 With Legendary access, which costs $15 per month (less if multiple months are purchased as a package), gamester have access to all features and benefits. This includes access to all DLC packs for free, 16 character slots, 63 inventory slots, and the power to form leagues without any size restrictions.
While the new pricing structure should be appealing to new players of the DC Universe, it could leave existing players with a feeling of buyer's remorse. This possibility wasn't ignored by Sony. Current players with a month-to-month or multimonth account will automatically be granted legendary access for whatever time they've purchased once the new pricing scheme takes effect. After that, they can renew their legendary access or choose another level of participation in the game.
Sony's pricing restructuring of DC Universe comes 15 months after it introduced a PS3 version of the game at last year's Electronic Entertainment Expo.
Judging from comments at the PS3 blog, the move by Sony is being met with a positive response, although one user with the handle "the bjg" wryly observed: "In the article it said they listen[ed] to the gamers that didn't want to pay so they made it free. Did they think people wanted to pay to begin with?"
While Sony has done a lot to mend fences with its customers after the break-in to its servers by hackers earlier this year–a break-in that included the theft of more than 12,000 credit numbers from Online Entertainment customers–polishing its customer service image a little more is still worthwhile.
Follow freelance technology writer John P. Mello Jr. and Today@PCWorld on Twitter.