Can Facebook rest on its 750 million user-base laurels? We'll find out Thursday at the social network's F8 Developer Conference, which takes place in San Francisco. Buzz on what's expected ranges from the possibility of new Read, Listened, Watched, and Want Facebook Buttons to a first-ever Facebook iPad app.
Facebook is tight lipped when it comes to what we can expect, but with Google's social network seen as a formidable competitor, with Google+, all eyes are on Facebook to deliver a knockout punch to Google.
However, Google appeared to go on the offensive against Facebook, opening the doors this week to all comers for Google+, its Facebook alternative, which had been in field trials for the past three months.
Google piled on more than a dozen new Google+ features, many of them aimed at mobile phone users. These include better search and better text messaging support. And it improved Google+'s hangout or video feature–opening it to users of Android phones–and expanding the online version, called Hangouts on Air. With Hangouts on Air, you can have up to nine people on the video chat with an unlimited number watching.
It certainly appeared from this onslaught of announcements that Google wanted Facebook on the defensive as the social networking giant moved closer to the opening of its developers conference Thursday. You can watch the Livestream of Mark Zuckerberg's keynote address starting at 10 a.m.
Facebook Worried?
Ironically, since Google+'s launch in June, Facebook has borrowed from Google+ making it seem the social network is concerned about defectors. Facebook's new smart friend lists, similar to Circles on Google+, is one example. (That's not to say Google+ hasn't lifted some features from Facebook) With this feature you can more easily share with just the Facebook circle friends you want. Stealing a feature from Twitter, Facebook has recently added a subscribe feature which allows you to have Twitter-style followers on your profile.
Facebook is also feeling the heat from media sites that are growing in popularity and quickly becoming social hubs for sharing with new and existing friends. Media services, with millions of users, are seen as both a threat to Facebook or new best friends – if Facebook can ink deals with them. Facebook already has a deal with Spotify allowing users to share their Spotify playlists with other Facebook friends. But is that enough?
Is Facebook feeling the heat of the competition? Anecdotal reports suggest no. Google+ interest among its users is reportedly waning. It's also a safe bet that, if you have a Hulu, Spotify, or MOG account, you also have a Facebook account. And let's face it, even the most serious threat to Facebook is so far in the social network's rearview mirror it would be silly to think Facebook was paranoid.
Still, Facebook's pride is on the line this week. A humdrum rollout of lukewarm features is a cancer this behemoth can't afford. After all, the bigger they are, the harder they fall – just look at AOL.
In July Facebook rolled out "something awesome", as Mark Zuckerberg called it, which turned out to be a video chat service. The service was a welcome addition to Facebook, but was less than awesome when compared to Google+'s video chat feature. Zuckerberg was forced to take that defeat on the chin.
And this week, Facebook also debuted a new "smarter" News Feed. Now when you log in, you'll see the News Feed with all of your updates–both the "important" and recent ones–in one place. Facebook will still try to determine which stories will most interest you, and will highlight these "top stories" with a pale blue corner.
This update caused an uproar from users. PCWorld's Facebook page, for instance, was flooded with negative comments about the change, with nearly 500 people "Liking" our Facebook post: "So who else is annoyed with the new Facebook?"
Here is a look at what else we might see this week from Facebook.
Music and Film Ticker
Several sources claims to have the inside scoop on Facebook's upcoming F8 Conference, and says that Facebook will be announcing a real-time stream, or "ticker," of what its users are listening to and watching online. The Guardian says Zuckerberg plans to unveil the changes as part of a "read, watch, and listen" theme, which suggests that the social music and social movie rental ideas aren't far off.
Other sources suggest that the Facebook tickers will take the form of Read, Listened, Watched, And Want buttons. In the same way Facebook Like buttons highlight and personalize content, these new media-centric buttons would accomplish the same goal.
If Facebook does introduce such a service, it'll hopefully be opt-in and not opt-out. After all, not everyone wants their Facebook buddies to know what they're listening to or watching. The Guardian claims it'll be an opt-in service, but you never know with Facebook.
Social Music
Facebook may announce an on-site music streaming service, possibly in conjunction with streaming music service Spotify. This wouldn't be much of a surprise–after all, just a few months ago we were hearing rumors of Spotify actually launching in the U.S. via Facebook (Spotify later launched in the U.S. all on its own, but still).
Facebook and Spotify may still collaborate, in an effort to make the Facebook website "stickier." I think this is unlikely to make Facebook much stickier–after all, it's not like you can't use regular ol' Spotify and browse the web at the same time. So, unless Facebook manages to make some sort of deal with Spotify–no ads, perhaps?–I'm not sure how it will help.
Social Movie Rentals
In another effort to make Facebook's website "stickier," Facebook may officially debut a movie rental service. Facebook has recently been experimenting with movie rentals on its site, and penning deals with big studios, but now that Netflix is going down in flames it might be the time to really strike.
Facebook started its movie rental service back in March with Warner Bros' Dark Knight, quickly following up later that month with five more Warner Bros titles. And just recently, Facebook added 20 titles from Miramax. If Facebook announces a movie rental service it'll be nothing new, but if Facebook announces a comprehensive movie rental service–that'll be something.
An Instagram Killer
We've been hearing a lot about how Facebook wants to get in on the Instagram/photo filter craze. In June, TechCrunch reported that it had received a number of images and documents relating to Facebook's plans to launch a standalone photo filter app that would supposedly be a mix of Instagram and Color, two popular iPhone apps. Last month, anonymous Facebook engineers told the New York Times that the rumors were true.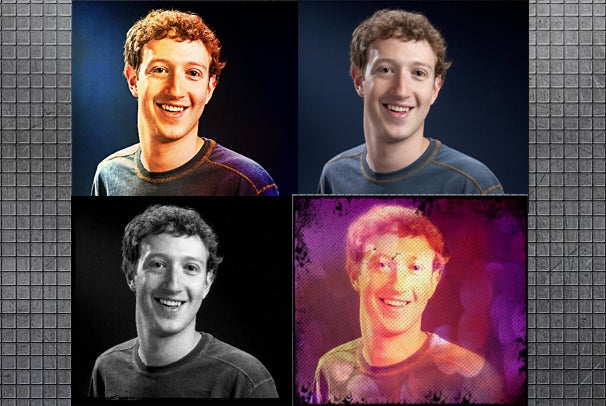 The unnamed engineers told the Times that the app was almost ready, but that Zuckerberg wanted a few more filters before it launched. Since that story leaked just about a month ago, it would make sense if the app were to be launched soon (say…at the F8 Conference). Facebook's supposed app will, if it does in fact exist, probably be wildly popular–people do use Instagram, after all, to share photos with their Facebook friends.
An iPad App
It's hard to believe, but the world's most popular social network still doesn't have an official iPad app. That's right–if you want to use Facebook on your iPad, you have to resort to third-party apps such as Friendly for iPad.
That Zuckerberg says the "awesome" project was developed on Facebook's Seattle campus has some analysts thinking it might be an iPad app–after all, Facebook's Seattle campus reportedly "played a central role in the development of Facebook's unified mobile site," which was unveiled in March.
Of course, in June we also heard rumors about a secret Facebook project called "Project Spartan." Project Spartan is supposedly an endeavor to create the entire Facebook site in HTML5–so, instead of seeing an iPad app, maybe we'll just see a totally revamped mobile website.
Rumors are Just Rumors
Of course, we won't really know what Facebook announces until Thursday.
(PCWorld's Tom Spring contributed to this post)