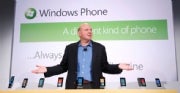 If Microsoft wants to compete with the iPhone and the gazillion-plus Android handsets in the smartphone market, it's probably going to have to beef up its already sizable marketing budget for Windows Phone 7.
According to a new study from Connected Intelligence, a service from market research firm The NPD Group, Windows Phone 7 appears to be gaining some recognition–albeit very slowly–in an increasingly Android-dominated world.
Microsoft's well received but largely ignored (well, by consumers, anyway) mobile operating system is providing "nascent competition" to Android and Apple's iOS, according to Connected Intelligence's "Android: Variation and Value-Add" report.
It's a good news/bad news scenario for Microsoft, however.
The good: Some 44 percent of smartphone owners, and consumers planning to buy a smartphone in the coming months, are considering purchasing a Windows Phone 7 device.
The bad: 45 percent of consumers aren't aware of Windows Phone 7. And nearly half of smartphone shoppers who aren't interested in Win Phone 7 say they "don't know enough" about Microsoft's mobile platform.
"Windows Phone 7 has a way to go before consumers really understand what it is," Connected Intelligence research director Linda Barrabee said in a statement . "But with the right marketing mojo, apps portfolio, and feature-rich hardware, Microsoft could certainly improve its standing and chip away at Android's dominant market position."
Android Monster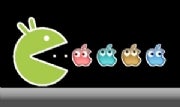 Meanwhile, Android's market share-gobbling ways continue. Among current smartphone owners, and others who plan to buy a smartphone in the next six months, Android generates the most interest (63 percent), and is the platform consumers want the most (36 percent).
"The Android juggernaut continues, and that's not great news for some of their OS competitors," said Barrabee.
A third of BlackBerry smartphone owners are most interested in Android for their next smartphone purchase, adds Barrabee.
However, Android faces serious challenges from the iPhone, which continues to sell like crazy–and, yes, maybe even Windows Phone 7 in the not-so-distant future.
Contact Jeff Bertolucci via Twitter (@jbertolucci) or at jbertolucci.blogspot.com.