Bay Area Rapid Transit's August shutdown of wireless service to squelch a demonstration in San Francisco raised anew questions about the use of tech in the face of authority. In this second installment in a series of FAQs, we examine the responsibilities of telecommunications providers to keep their subscribers connected to the network. Be sure to check out the first installment, a discussion of your rights when photographing the police.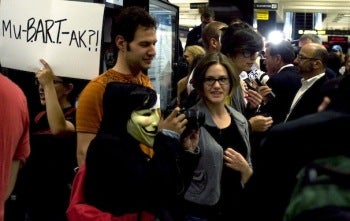 During times of unrest, a cell phone is your best tool whether you need to organize some civil disobedience or you're just a bystander who requires medical assistance. Telecommunications providers power our mobile devices, however, so it's necessary to know whether your wireless provider can shut down cellular service, and whether you have any rights to privacy if the carrier or law enforcement agents find your actions running counter to their best interests.
This year, wireless devices were essential in helping protesters around the world organize further demonstrations. In Egypt, the government ordered a shut off of cellular service in certain cities around the nation; during London's summer riots, members of Parliament considered shutting down BlackBerry Messenger and Twitter. "When people are using social media for violence, we need to stop them," said Prime Minister David Cameron, according to the Guardian. Needless to say, however, popular social media services rejected any offers to give the British government any authority over their platforms.
Here in the United States, authorities for Bay Area Rapid Transit shut off all phone service in its San Francisco subway stations for 3 hours on August 11 in an attempt to disperse protesting crowds. While it is still unclear whether telecom companies were complicit in the shutdown of service (it is likely that BART notified them that it would shut down its amplifiers, and did nothing in response), the action raises important questions about the responsibilities of wireless carriers to their subscribers. Unfortunately, much of the law regarding what constitutes essential services is still being decided, due to the rapid advances in wireless technology.
What are carriers' responsibilities to subscribers in the midst of a civil disturbance?
It depends on whether you're using voice, data, or text service. Of course, wireless carriers are allowed to shut off service to an area when, say, a tower is damaged or needs to undergo routine maintenance, but according to Harold Feld of Public Knowledge, a Washington, D.C., public interest group, "when you decide to deliberately interfere with cell service, it becomes more problematic."
Voice calls: Under the Federal Communications Act of 1934, voice calls are considered Title II services, and are subject to the rules and regulations of the FCC, not the whim of the carrier. Without notifying the FCC, carriers cannot shut off phone service. For Title II services, telecom carriers must file a petition with the FCC citing reasons for shutting down service, a procedure that takes time. Furthermore, in the midst of a civil disturbance, it is unlikely that the FCC will grant a shutdown of voice calls, because emergency services need to be accessible by phone.
Data and texting: Internet service, on the other hand, is a Title I information service, and ISPs can shut down networks for whatever reason, with almost no repercussions to the provider. And texting, says Feld, is in a gray area–neither an essential and protected Title II service, nor an expendable Title I "information service."
Muddling the legal boundaries is the proliferation of smartphones, which receive both Title I data and Title II communications on the same spectrum. Still, phone service must remain open in times of emergency, and since smartphone data service transmits over the same spectrum, it should enjoy the rights of a Title II service as well, although an explicit ruling on this issue has not been made yet.
Can a wireless carrier shut off service to a group of subscribers who law enforcement believes are creating a threat to public safety?
"It all depends on the nature of the threat," says Harold Feld. Naturally, if a cell-phone-activated bomb is sitting on the platform of a subway station, immediacy of action supersedes the need to keep voice calling open. "But if the threat is more vague, if law enforcement says, 'We think people will use this for something bad,' then no," Feld notes.
If the threat is in any way vague, law enforcement would have to obtain a warrant to shut down Title II telecommunications for any amount of time. If the warrant seekers had sufficient proof that shutting down service was necessary, then law enforcement could shut down signal providers in the specified area.
This is not what happened when BART shut down cell phone service, however. BART knew of the protest approximately two days in advance, but made no effort to get a warrant to shut off wireless carrier signals. The situation gets tricky, though, because BART is a government agency and is also the owner of the subway stations' signal repeaters, the devices that make wireless service possible down there.
Feld and his team at Public Knowledge say that the FCC's previous rulings show that BART may not cut off voice-call services without notifying the commission of its intent, but since the FCC has not made an explicit ruling on that topic, Public Knowldge and other digital rights partners drafted a petition for the FCC to make a Declaratory Ruling against BART's actions (PDF).
Is there any situation in which wireless carriers can legally shut off service to subscribers who are using it to organize or communicate political messages?
Again, not unless they obtain a warrant. "You can't say 'We think there's drug dealers in this neighborhood, so we want you to shut down the cell phone network,'" Feld says. And shutting down cell phone service would be counterproductive from an investigator's point of view, because it would eliminate swaths of evidence that could be obtained to give information to the authorities, such as posts on Facebook and Twitter, or even wiretapped phone calls.
Alternatively, can a carrier be held liable if a third party (a transit agency, a government agency, or a building owner) disables an access point to shut off service in a specific area or to a specific group of users?
No. A carrier has as much right to sue an offending party if that party shuts down service without using the proper legal methods (such as getting a warrant, or asking the carrier's consent) as it would have a right to sue a third party that, say, destroyed a cell phone tower. Because the law is very clear-cut in this instance, legal questions of that nature don't come up very often.
In the BART case, what likely happened (according to Harold Feld and Public Knowledge) was that BART contacted the carriers and told them that BART would be shutting off the signal repeaters in the subway stations, and not to send repair personnel. The carriers likely complied with BART's wishes. In this particular situation, no telecom providers have sought legal action against BART.
Are there any situations where wireless carriers can legally listen in on my calls, or see my texts or data?
Yes, but rules govern how that information is used. Telecom providers do have a view of what you're doing on their lines, such as who you're calling and how much data you're using, or even which sites you're visiting on your phone. Your provider can use that information "without your approval, to market enhancements to services you already use," according to the FCC.
But other than using the information to market services to you, telecom carriers can disclose the information they acquire about your phone habits only in the following situations:
1. You give your approval for the telecom provider to disseminate some of your information, as in providing a history of the services you use to third parties so that those parties can market relevant services to you.
2. If required by law. Usually this action requires a warrant, but recent legislation regarding "warrantless wiretapping" has broadened the criteria for law enforcement to demand information about a subscriber.
What about wiretapping? When will carriers provide call records to local, state, or federal law enforcement? Can they refuse?
As mentioned in the answer above, wiretapping laws of the past ten years have made the requirements for tapping wires in real time more lax. The recently reapproved Patriot Act (made law in 2001 and renewed May 2011) contains wiretapping laws such as Section 206, which the Electronic Frontier Foundation describes as "authorizing intelligence investigators to conduct 'John Doe' roving surveillance–meaning that the FBI can wiretap every single phone line, mobile communications device, or Internet connection that a suspect might be using, without ever having to identify the suspect by name."
In 2009, a secret federal appeals court mandated what has been called "warrantless wiretapping," which demands that telecom companies cooperate with law enforcement to turn over international phone calls and email messages of suspected terrorists. This summer, however, two court cases— Hepting v. AT&T and Jewell v. NSA–may challenge the U.S. government's ability to usurp telecom records and service.